Santoku vs Chef Knife: Kitchen Knife Comparison
Greg
In the performance cutlery world, two main types of knives serve as versatile kitchen tools: Japanese-style Santoku knives and the Western chef knife.
Although they appear strikingly similar to the untrained eye, they have distinctions, from techniques, shape, and cutting styles to design. With that being said, let's delve into an in-depth comparison of a Santoku vs. Chef Knife to gain insight into the perfect fit for you.
Santoku vs Chef Knife: History
The history of Santoku knives dates back to the mid-1940s towards the Second World War. During this period, the Japanese picked up some western cooking techniques such as slicing, chopping, and cutting.
Back home, they couldn't prepare some of these meals with the nakiri, a conventional vegetable cleaver used for chopping and cutting.
They needed an alternative which ushered in the innovation of the Santoku bōchō, a Japanese phrase that means 'three uses' or 'three virtues.' The knife retained the straight edge and height of the nakiri while adding a friendly tip that resembles a sheep's foot.
Depending on the user, Santoku bōchō has a different meaning. While some refer to it as the ability to chop, dice, and slice, others refer to the knife's ease of cutting through vegetables, meat, and fish.
The chef's knife originated from Solingen, Germany, a land once rich in coal and iron. It was renowned for sword production until knife manufacturing took over in the early 1930s. A culinary exchange occurred as a result of the trade between the Germans and the French.
While the German blacksmiths centered on crafting the required tools, the French focused on the food. It's this cultural exchange that ushered in the modern-day chef's knife that shines through in cutting and chopping vegetables, meat, and bone-in meat.
Santoku vs Chef Knife: Design and Shape of the Blades
The blade of a chef's knife ranges from 8 to 12 inches. It's worth noting that a longer blade makes it a breeze to slice using one stroke. There are two variations of the shape of the blade: French and German.
The French variant has a more triangular front and is straighter, enhancing the slicing motion, more so with meat.
The German version has a curved blade section at the front, ushering in increased stability and control when cutting using the 'rocking' motion. Both variants have a sword-like tip that is perfect for puncturing before cutting.
Santoku knives are shorter, with a blade length of 5 to 7.9 inches. As a derivative of the nakiri, which is chunky, a Santoku has a boxier structure.
In turn, it holds the additional weight required to balance the knife. The Japanese steel on Santoku knives is heavier, giving them a weighty, elegant feel, perfect for chopping.
On one side, you'll notice the blade of these knives has a less pointy tip, allowing you to cut clean slices without accidentally piercing the food. A Santoku knife is an ideal choice for downward, swift cutting tasks, more so when the meal prep calls for repetitive slicing.
Santoku vs Chef Knife: Blade Material
It's no secret that blacksmithing is the key to developing kitchen knives. However, sword makers need to craft sturdier tools; using harder steel ushered in brittleness.
A steel sword would retain its sharpness but break easily in battle. The Germans swooped in to resolve this issue by creating tougher, softer steel that would get dull easily but was sturdy enough to withstand combat.
Contrarily, the Japanese called for grace and sophistication on the battlefield. It ushered in the technique of hammering different layers of steel together with varying levels of hardness.
It's the innovation that birthed hard metal with a razor-sharp edge that was still elegant and soft.
Reputable brands like Dalstrong use 66 layers of high-carbon steel for long-lasting edge retention and scalpel-like sharpness.
While Most Santoku knives are constructed from high-carbon stainless steel, Chef's knives such as the 8-Inch Crusader Series are made of ThyssenKrupp German stainless steel.
Santoku vs Chef Knife: Handle Design
It's a no-brainer that the handle impacts comfort and control during meal preparation. Santoku and Chef Knives from Dalstrong have ergonomic handles for improved maneuverability and a firm, comfortable grip.
You also delight in extras such as strain and water resistance and anti-slip. The main variation in the handle is the bolster. A Santoku blade connects directly to the handle without a bolster. Contrarily, a chef's knife has a bolster that allows users to have better control.
Santoku vs Chef Knife: Sharpness
Typically, a Santoku blade is sharper than the Chef counterparts. They can be honed to a steep 10-degree angle per side, whereas a chef's knife can be sharpened to a 15-degree angle on each side.
Santoku vs Chef Knife: Edge Grind
Most Chef and Santoku knives have a double-beveled edge, which means they are ground on both sides to become V-shaped. However, a boatload of Santoku blades has single-beveled edges whereby only one side is ground to an ultra-sharp angle.
Single-beveled edges are sharper, making them perfect for generating paper-thin food slices but require some expertise to use. They are designed with right and left-handed professional chefs in mind as they lack the double-beveled counterparts' ambidexterity.
Santoku vs Chef Knife: Uses
There's no denying that chef and Santoku knives are multipurpose, well-rounded tools. However, their varying structure means some tasks are best suited for one over the other.
For instance, a Santoku knife is ideal for slicing more delicate, lighter foods due to its hollow edge and sharp, thin knife blade. With its pointy tip and heavier, thicker knife blade, a chef's knife is perfect for tough, bulky foods such as dense meats and root vegetables.
Santoku vs Chef Knife: Cost
Although chef knives are usually pricier than the Santoku counterparts, it varies depending on your desired size and brand. Generally, the cost of stamped knives will lower than the forged options. Brands that make their knives with unique designs such as layered steel, use premium material, and advanced production techniques are usually pricier.
What Are the Perks of a Santoku Knife?
Here's why a multitude of people gravitates towards a Santoku.
Versatility
Santoku knives are all-purpose tools that come in handy in a vast assortment of kitchen tasks such as chopping, slicing, dicing, and mincing. While it has a smaller profile compared to a chef's knife, a Santoku is a workhorse, with the uncanny ability to finely mince garlic, cut up a whole turkey, and everything in between.
Precision
A Santoku knife usually has a lightweight, thin blade that enhances maneuverability, making it the go-to for precise slicing. Its hollow edge forms air pockets between the food and the blade, leaving you with clean slices.
Variety
Although Santoku knives have a standard design, there are variants in construction, cutting angles, material, and shape. While some are made of steel, others are ceramic. A myriad of Santoku knives is constructed from layered (laminated), forged steel, ushering in a vast assortment of finishes and styles. The market is also littered with stamped Santoku knives.
What Are the Perks of a Chef's Knife?
Depending on the part of the blade you engage, the heel's gradual curve to the tip can usher in the following perks:
Front: Perfect for small cutting jobs such as slicing onions or other small vegetables such as mushrooms.
Middle: Best suited for cutting through soft and firm roots and mincing herbs, garlic, or vegetables.
Heel: It's a great starting point for slicing through pineapples, carrots, butternut squash, and other tough foods.
Spine: It can handle shellfish casings, small bones, and shells.
Surface: Excellent for shoveling chopped foods, walloping garlic cloves, and shaping meats.
Santoku vs Chef Knife: Sharpening
Sharpening relates to the angle restoration of a knife's blade. Before we delve into the differences between honing a chef's knife and Santoku, let's discuss the three most important reasons to sharpen a knife.
Safety
Whether you use a knife occasionally or frequently, dulling is inevitable. A dull blade is a safety hazard as it requires the exertion of more force when cutting, elevating the likelihood of an accidental slip and injury.
The Ideal Finish
It's a no-brainer that a sharp knife preserves the integrity of the food you're cooking. Cutting with dull blade damages the food cells, negatively impacting the overall aesthetics and flavor.
Pleasure
It's unarguably more delightful to slice with a sharp knife as it exponentially steps up the overall cooking experience.
Given that most Santoku knives are single-beveled and constructed from sturdier steel, creating a finer angle on one side for increased sharpness is a breeze. They also require less sharpening work as opposed to double-beveled knives. The best way to sharpen a Santoku is using a whetstone in the process described below. It delivers a sharper knife-edge compared to other techniques.
Submerge the whetstone in water and let it soak for a few minutes
Tilt the blade at the correct angle, using the coarse side first
Run the blade up and down the stone in smooth motions
Make sure you cover the entire blade from the edge to the start of the handle
If the knife is double-beveled, conduct the process on both sides
Flip the stone to the finer side and repeat the process
Hand-wash the knife and let it air dry
While this is a general process, ensure you strictly follow the detailed instructions that come with your whetstone.
It's worth noting that Japanese knives are constructed from thinner but more durable steel, so sharpening steel could damage them.
Whetstone sharpening is the key to creating a highly-honed, defined edge. However, you could opt to sharpen a chef's knife between bouts of honing. If so, below are the general steps in using a sharpening steel.
Keep in mind it takes practice, so be patient as you get started, and remember to follow the manufacturer's instructions for the best outcome.
Use your dominant hand to hold the handle with the sharpening steel in your free hand, both facing upright. They should intersect to form a V-shape.
Position the heel of the blade against the steel, approximately 20mm from the top of the steel. Make sure you have the ideal angle (anywhere between 15 and 20 degrees).
Exert medium pressure to draw the knife down the steel towards the tip of the blade. Remember, only the knife should move, so keep the steel stationary. Make sure the edge is in contact with the steel as opposed to the side.
Repeat the process 5 to 10 times on both sides of the blade to maintain the angle's consistency as it's more crucial than speed.
The Top 2 Santoku Knives
Without further ado, let's explore the two best Santoku knives that will give you the best bang for your buck.
1. Mercer Culinary Genesis
Designed from a high-carbon German stainless steel, the 7-inch Mercer Culinary Genesis is the perfect combination of quality and affordability.
It has impressions on the edge of the blade to prevent food from sticking to it when cutting. With adequate care, the precision forged steel is resistant to rust and discoloration.
The full bolster guarantees the Santoku is well-balanced while protecting your fingers from sliding to the blade. The nonslip, full tang, riveted handle ensures optimum comfort and balance even with moist or oily hands. For easy, long-lasting sharpness, increased stability, excellent efficiency, and effortless honing, the blade's edge is taper ground.
Pros
User-friendly
Precision-forged
Made of premium German steel
Unrivaled resistance to rust and stains
Backed by a limited lifetime warranty
NSF-certified
Full tang, nonslip handle for excellent balance
Long-lasting sharpness
Cons
Susceptible to damage from extreme heat
The blade may rust, pit, or stain when submerged in water for an extended duration
Requires extra care for edge retention and durability
2. Wüsthof 4182

As a lightweight Santoku, the Wüsthof 4182 is loaded with dimples on the blade edge that guarantee the effortless release of food from the blade. For excellent balance and optimum safety of your fingers, the knife has a bolster.
The handle has 3 rivets and is precision-forged from top-grade steel with no joints to ensure its durability. To boost the sharpness by up to 20%, the 5-inch Wüsthof 4182 was constructed with precise technology that also helps the blade last longer.
With impressive edge retention, the moderately curbed blade is sharper, thinner, and well-polished using a special disc. Handcrafted from one piece of top-notch stainless steel, the 5-inch Wüsthof 4182 is resistant to fading and discoloration. It also ushers in easy maintenance. The hollow edge keeps abrasion and drag at a minimum.
Pros
Tempered to an impressive 58-degree Rockwell Hardness
Ideal for a broad range of meal prep
Excellent cutting performance
Nonstick surface to curb food from adhering to the blade
Full tang for maximum balance and control
Cons
Pricier than other Santoku knives
The Top 2 Chef Knives
Here are 2 of the best chef knives that deliver affordability, aesthetics, and performance rolled into one.
1. Home Hero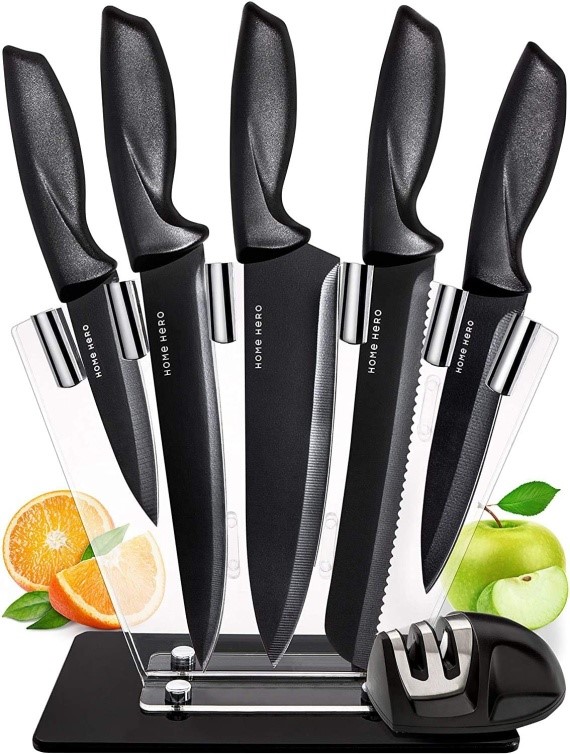 Available in 5 stainless kitchen knives, the Home Hero set comprises a carver, bread knife, paring knife, utility knife, and a chef knife.
For storage, they are neatly packaged in an eye-catching knife block that calls for minimal space on your kitchen top. It protects the edge of the blades while permitting easy access.
With a sharpener included, you have free rein to hone your knives as you deem necessary. The knives can handle a vast assortment of meal prep tasks with utmost efficiency.
Pros
Ideal choice for home cooks and professional chefs
Nonslip handle for a secure yet comfortable grip
Easy maintenance
User-friendly
Scratch-resistant and nonstick blade
You don't need to sharpen the knives before your first use
Unique design
Budget-friendly
Sharpener included for convenient honing
Cons
Susceptible to warping
Not as durable as high-end chef knives
2. Zelite Infinity Honesuki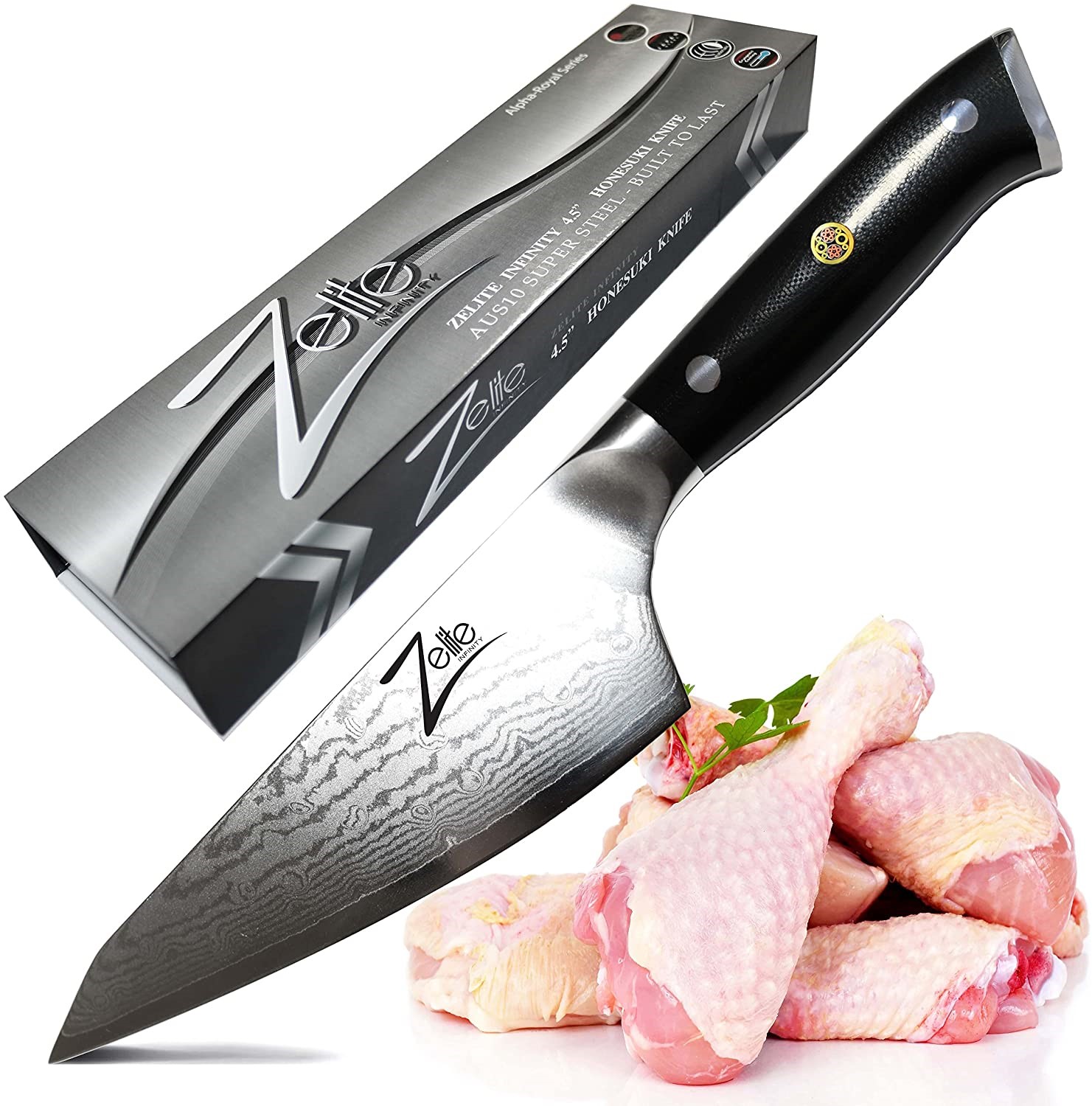 Constructed from top-grade Japanese AUS10 steel with 67 layers of Damascus stainless steel, the 4.5-inch Zelite Infinity Honesuki has unmatched edge retention.
In addition to a lightweight, comfortable, and round G10 handle that provides a secure grip, the blade is resistant to corrosion and discoloration.
The tapered bolster and full tang guarantee long-lasting performance, optimum balance, and precise control for professional chefs and home cooks alike.
To guarantee the free release of food, the heat tempering process of the blade ushers in a sharp, durable edge with a nonstick surface. The tsunami rose Damascus pattern on the blade gives the Zelite Infinity Honesuki a sophisticated appearance.
Pros
Effortless cutting experience
Continuous use without hand and wrist fatigue
Perfect for tough and delicate ingredients
Metal rivet for excellent balance, durability, and strength
Cons
Requires extra care for increased longevity
Santoku vs Chef Knife: Which One Should You Choose?
Granted, both options can be used in place of one another, are readily available, and are made of similar materials. However, upon closer inspection, they have certain distinctions in the shape and size of the blade.
With each knife ushering in unique perks based on the particular kitchen task, the choice ultimately boils down to your preference. Regardless of your selection, one thing is certain; Santoku and chef knives are a crucial component in any kitchen's cutlery set.