Hey everyone!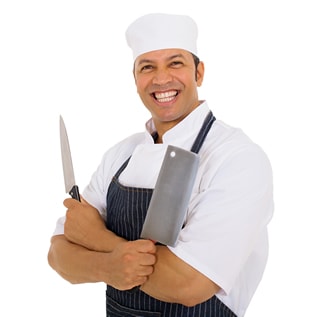 I am Greg and I'm a butcher for over 20 years.
I also worked as a butcher for 5 years in Germany and almost 7 years in Ireland.
In my long career I was working as a boner, trimmer, I worked at the slaughterhouse, butcher shop and I was producing sausages and smoked products.
Now, I'm running my own butcher shop and I would love to share my knowledge and experience about butcher knives I gained during all this years with you.
Almost every day in the previous 20 years of my life I was holding a knife in my hands. Therefore, I know a lot about them and I know how important this tool is especially in a butcher's life.
Butchery is my passion.
The reason I created this site was to share my experience about professional butcher knives and because I know how hard is to find a good, proper knife. I simply want to help you to pick the best knife for your job. If you are a butcher or running your own butcher shop. I really hope that I will help you to make your work more efficient and much easier!
I love to talk about butcher knives and everything related to the butchery so if you ever have any questions or would like to share any opinions of any of the content on my website, please let me know. I will appreciate feedback in every form.
A little bit more about me…
I am currently 43 years old. I have a wife and two wonderful kids and I love spending time with them.
As I already mentioned, I worked as a butcher all over the world. From every country in which I lived, I learned something new and valuable about my job.
Now, after many years of hard work, which butchery undoubtedly is, I decided to open my own shop and focus on producing my own products such as sausages, cooked & smoked meats and many more.
I started to work in a very young age and one of the first thing I learned was how to properly hold a butcher knife. I had a great teacher which showed me how to pick the right knife for boning, trimming, or slaughtering. I was told that this is the most important aspect of my work. Since then, I always put a lot of attention into the butcher knives. This helped me to be much more efficient and successful at work and saved me from different kinds of hand injuries. That's only by having a proper and sharpened knife.
My collection
By all this years I have a great collection of a really high quality and professional butcher knives and accessories which I carefully selected and about which I care in the best possible way. I'm more than happy to share everything I know and I really hope that this website will provide you with a lot of valuable information about professional butcher knives and that you will come back here to read my new reviews and blog posts.
If you would like me to review or make some article about any butcher product, please email me I will definitely do that for you.
Thank you again for visiting my site and I hope it will help you to make the best choice for yourself. Don't forget to ask me a question or leave a comment. I will be more than happy to talk to you 😉
Cheers,
Greg,
Founder of ProfessionalButcherKnives.com
Email: greg@professionalbutcherknives.com