Best Carving Knife: 7 Top Options
Greg
Let's face it. Having a slicing or carving knife in your cutlery collection isn't an absolute necessity. However, when the holidays roll around, and whole hams or large roasted turkeys are on the table, there's no denying it's a lifesaver.
Thinner and longer than the average Chef's knife, carving knives are perfect for serving a vast assortment of meats. Their pointed tips make it a breeze to navigate and maneuver joints and bones.
With the wealth of options that have littered the market, finding the best carving knife for you can be an uphill battle. Fortunately, we've rounded up 7 products that will give you the best bang for your buck. Read on!
1. Cangshan N1 Series 61758 German Steel

If you're on the quest for the perfect blend of balance, precision, and an excellent design, then the Cangshan N1 Series 61758 German Steel wraps up your search. Backed by a limited lifetime warranty, it's a bold contrast between subtle and sharp.
The minimal design of the hollow, chic handle guarantees the knife is not only aesthetically pleasing but also delivers unmatched balance in your hand. With a full tang and bolster design where the blade runs from the tip to the handle, the knife provides exceptional durability and control.
The Cangshan N1 Series 61758 German Steel set comprises a 9-inch carving knife and a fork. Approval from the National Sanitation Foundation (NSF) implies that it's versatile enough for domestic and commercial applications.
With a unique, patented angled booster, the set ushers in a natural and firm pinch grip. Designed with comfort in mind, each seam is flush, infusing an impressive feel in your hand.
The set is fabricated from high-alloy German steel for unrivaled durability that delivers impressive sturdiness and corrosion resistance. Although it ranks 58+/-2 on the Rockwell hardness scale, which is average for kitchen knives, the edge will hold a while.
Courtesy of the six-phase, ultra-precise heat treatment, the blade maintains its unmatched sharpness for longer. As a result, it provides sufficient durability and sturdiness for a 16-degree edge and heavy kitchen use.
Pros
Impressively sharp
Well-balanced
Comes with a limited lifetime warranty
An eye-catcher and versatile
Ensures a comfortable and firm grip
Form-fitting storage
Ideal for commercial and home use
Cons
The point at which the blade and handle intersect is relatively harsh
Average hardness
2. Henckels Classic Carving Knife

With the satin-finished, honed, and fine-edged blade of the Henckels Classic Carving Knife, slicing and serving meat is a walk in the park. You can effortlessly cut succulent slices of ham, roast turkey, and filet mignon.
The seamless transition from the thin 8-inch blade to the handle means you'll experience confidence with every cut. Courtesy of the conventional ergonomic triple-rivet handle that envelopes a full tang, you can delight in tireless cutting as it ushers in impressive balance and comfort.
Made of top-grade steel, the Henckels Classic Carving Knife was designed with longevity in mind. While this material isn't as durable as the brand's premier lines, the blade is hot drop forged and stain-resistant, ushering in immense durability.
The handle is narrower and shallower than other carving knives, making it ideal for smaller hands. Although the knife is dishwasher-friendly, you should wash it by hand to drastically increase its durability.
Pros
Boasts long-lasting sharpness and precision cuts
Made of sturdy and durable German steel
Easy to sharpen
Triple-rivet handle for remarkable comfort and balance
Dishwasher-safe
Stain-resistant blade
Cons
The blade gets dull and chips easily
Uncomfortable for people with large hands
3. Dalstrong Carving Knife & Fork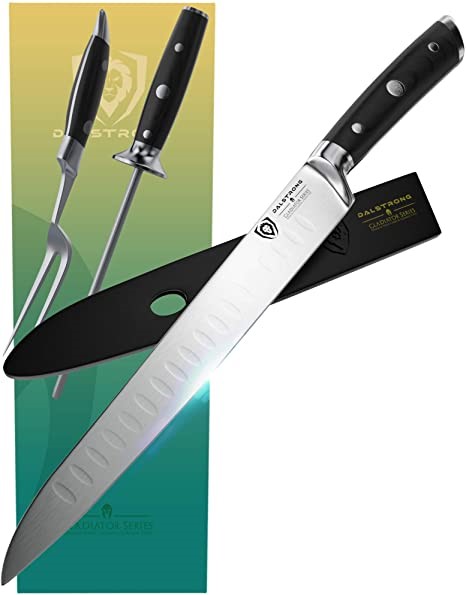 If your goal is to slice every roast, turkey, and ham with effortless motion and seamless maneuverability, then the Dalstrong Carving Knife & Fork Set is your holy grail. It combines stunning design elements, top-grade materials, and cutting-edge technology.
The razor-sharp knife has an 18-degree edge on both sides: hand-polished, stain-resistant, precisely-tempered, and made of high-carbon German steel.
In turn, it maintains the ideal balance between ultrathin slices and optimum resilience. The Dalstrong Carving Knife & Fork Set comes with a honing rod, an eye-catching, riveted pakkawood carving fork, and a sheath.
The honing rod keeps the blade in peak performance. Engineered to perfection, the blade has a hand-polished satin sheen and ranks at 55 on the Rockwell hardness scale. It's carefully tapered for optimum flexibility, enhanced sturdiness, and minimal slicing resistance.
Pros
67-layer Damascus blade
Limited lifetime warranty included
Unrivaled comfort and maneuverability
Constructed from alluring, high-carbon German steel
Reduced slicing resistance and enhanced flexibility
Increased hardness
Cons
Not as sharp as some users expect
4. Classic Wüsthof Two Piece Carving Set

This set's anatomy comprises the bolster, blade, heel of the handle, etching, a polished and carefully-ground spine blade, rivets, finger guard, tang, and edge. Tempered to a hardness of 58 on the Rockwell scale, the blade is a solid piece of top-grade steel. As an integral component of the knife, the bolster delivers heft and balance for seamless cutting.
The rivets permanently connect the handle to the tang, a blade extension that bolsters into and through the handle as the sturdiest form of construction. The heel of the Classic Wüsthof Two Piece Carving Set assists the carving knife's safe and controlled handling, whereas the finger guard guarantees optimum comfort.
The Precision Edge Technology yields a blade that is 20% sharper with double the edge retention compared to previous models. With the skillfully hand-honed edge, maintaining the 8-inch Hollow Carving Knife is a breeze. The 6-inch meat fork comes in handy for carving and serving.
Pros
Excellent value for the price
Seamless cutting
Hollow ground edge prevents the meat from sticking to the edge
Hard and durable
Uses the Precision Edge Technology
Maximum balance and comfort
Cons
The quality of the fork isn't as great as the knife
5. Mercer Culinary Genesis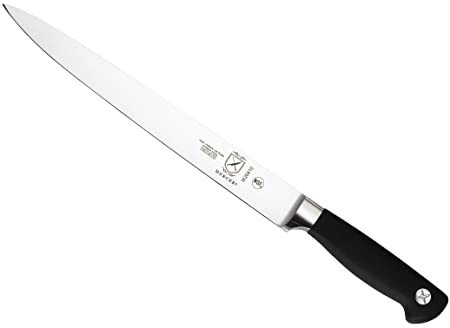 If you're on the quest for impressive strength and durability rolled into one, then the Mercer Culinary Genesis carving knife is right up your alley.
Its precision-forged construction comprises an ergonomic Santoprene handle that delivers superior comfort and a nonslip grip when your hands are moist. As a high-performing material with a soft feel, kitchen oils don't cause a breakdown of the handle.
Backed by a 1-year limited lifetime warranty, the Mercer Culinary Genesis deftly handles hot and cold temperatures. For enhanced durability, the high carbon stainless steel provides unmatched resistance to corrosion and discoloration.
The bolster infuses longevity and strength to the knife for better handling on the chopping board, whereas the tang delivers remarkable balance. The tapered ground edge boosts efficiency when chopping, ushering in superior stability, easy honing, and lasting sharpness.
The versatile design of the knife delivers impressive control when chopping, mincing, and dicing fruit, meat, or vegetables, significantly cutting down on prep time.
Pros
NSF-certified
Precision-forged construction
Resists discoloration and rust
Reduces meal prep time
Ergonomic handle
Comes with a limited lifetime warranty
Perfect for versatile use
Cons
The edge has a few high and low spots
It feels overly light and flimsy to some users
6. Ergo Chef Prodigy Series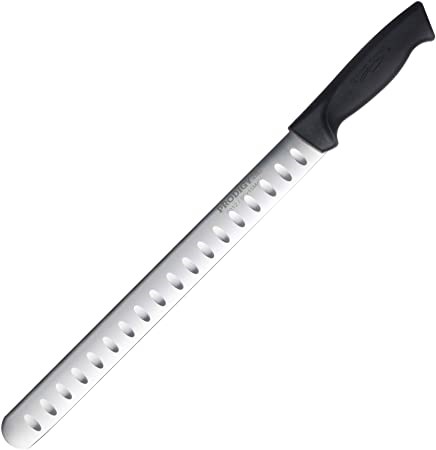 As the ultimate carving knife for your kitchen, the Ergo Chef Prodigy Series has an excellent handle and blade, which are the major components.
The edge of the blade is precision-ground, allowing you to cut perfectly thin slices of meat. For enhanced comfort and balance, it has a full-tang right in the handling. To deliver better control, the handle has a TPR nonslip grip.
The unique design on its blade sets the Ergo Chef Prodigy Series carving knife apart from the pack. It has hollow-ground ovals that serve as air pockets, preventing the food from sticking to the blade while cutting. It also ushers in easier maneuverability as a result of reduced friction.
This NSF-tested knife's efficiency stems from the ergonomically designed handle that delivers the right balance and comfort for effortless carving. It has a narrow and long shape with a sharp edge to guarantee peak cutting performance on meats, cakes, sandwiches, and more.
Pros
Precision-ground edge for perfect and thin slicing
Nonslip handle and TPR grip for maximum control and comfort
The blade is easy to sharpen
Budget-friendly
NSF-tested
Reduced friction when cutting
Cons
Not as long-lasting as premium carving knives
7. Chicago Cutlery Walnut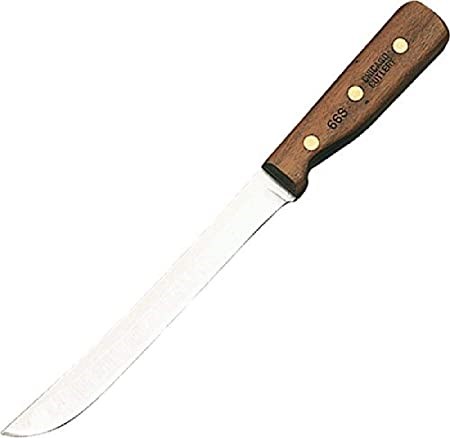 In addition to its superior performance potential, the 8-inch Chicago Cutlery Walnut carving knife is aesthetically pleasing with its conventional, ergonomically-built, wooden handle.
The blade's edge uses Taper Grind technology that prevents dullness for a long duration. With three brass compression rivets, the handle is secured to the blade for enhanced safety and stability during use.
Made of high-carbon stainless steel, the thin and long blade is resistant to rust and discoloration and makes the perfect addition to your knife set. It's also well-balanced due to its full-tang construction, allowing you to effortlessly slice and carve cooked meat.
Pros
Comes with a limited lifetime warranty
Long and thin blade for easier carving
Resistant to corrosion and stains
Classic wooden design
Ergonomic handle for optimum comfort
Cons
The handle is rough
Not as sharp as expected
Buyer's Guide: How to Choose the Best Carving Knife
We've rounded up a few considerations that will permit an informed decision.
Length
The blade size of a carving knife ranges from 8 to 14 inches. Therefore, unless you find the ideal length for you, using the knife can be uncomfortable and tricky. While overly short blades are ineffective in cutting large meat pieces, the excessively long counterparts are awkward to use and unwieldy.
The key to identifying the best blade length is selecting a size that's longer than your largest roast. Doing so ushers in the possibility of using the blade for extra-large briskets. A 14-inch blade length is perfect for commercial applications, whereas the 10-inch options are ideal for domestic use.
Handles
Handle materials typically mirror the overall construction of the blade. Stamped blades contain lightweight thermoplastic polymer handles, keeping them airy and agile. The polymers deliver easy contouring, a nonslip grip, and ergonomic comfort. Contrarily, forged blades have polymer handles with superior density to accommodate a full tang.
Other common handle materials include steel, resin and epoxy composites, and wood. Always opt for a handle with enough texture to prevent slippage. It should also offer deep finger guards to curb contact with the cutting edge.
Edge Design
It significantly impacts the quality of the cut. The most ideal edge design is a carving knife with a shallow, long, and thin profile. It's a secondary feature that makes all the difference in drag reduction.
For slicers, there's a multitude of edge designs ranging from the hollow edge, dimples, fluting, and Granton divots, to Cullens. The dimples in these designs generate air pockets that come in handy in diminishing friction and releasing food, paving the way for uniformly cut portions.
Material of the Blade
Most blades are made of stainless steel. It's not only the cheapest material available but also calls for frequent sharpening as it gets blunt easily.
Although high-carbon stainless steel is significantly pricier, its quality is remarkable as it retains sharpness for a longer duration. Some carving knives have ceramic blades with impressive rust resistance but are susceptible to breaking when used to cut hard foods.
Pointed or Rounded Tip
Consider whether you'd gravitate more towards the best carving knife with a pointed or rounded tip, depending on the intended purpose. If you plan to carve cooked poultry, fish, or red meat, then a rounded tip is your best bet. However, if you plan to use the knife to cut raw meat, then a pointed tip is right up your alley. It can handle tougher types of meat.
Accuracy When Slicing
In addition to safety, the best carving knife should generate slices ranging between ¼-inch and ½-inch, as these deliver the most ideal outcome in cookery. By providing a great balance, your work is fun and easy.
Slicing Tips
Here are a few pointers on the most ideal way to use a carving knife.
Ensure the blade is longer than the meat you want to slice.
Keep in mind that the knife must have a sharp blade. After all, the sharper it is, the thinner the slices of meat. Although you may feel intimidated by a sharp knife, the sharper it is, the lower the likelihood of it slipping and cutting you.
When slicing, use a carving fork to secure the meat in place. Long tines allow the fork to pierce through the meat, keeping it stable as you carve.
When carving, begin from the top middle, making your way across for thin slices of meat.
The knife should always face away from you.
Always take out the elastic bands, netting, skewers, or strings from the meat before you begin carving. Doing so ensures that these foreign objects in rolled meat won't be served to your guests.
If you're cleaning around a bone, cut horizontally to curb the blade from cutting into it and becoming blunt.
FAQ
We've rounded up precise answers to some of the most commonly asked questions.
1. What's the difference between a slicing and carving knife?
The main purpose of a slicing knife is cutting thin slices of meat, fruits, and vegetables. It has a longer blade with a blunt or pointed tip. Contrarily, the best carving knife is a lifesaver in slicing dense meats. Its ridged, thick blade with a curved and pointed tip usher in effortless disjointing of meat from the bone.
2. What is the most ideal knife for turkey?
Constructed with poultry and boning in mind, the blade should feature an angular design with unrivaled efficiency in breaking down the turkey into various sections. It should have a 4mm to 6mm thickness near the handle and 1.5mm to 2mm at the tip. Thinner blades deliver optimum performance when cleaning poultry, given their soft bones.
3. What is another name for a carving knife?
Although it's also commonly known as a carver, some people refer to the blade as a boning knife. The name is based on its sole purpose, in this case, carving meat.
4. Is a cordless carving knife any good?
With their ease of use in commercial settings, it's no surprise that cordless carving knives are soaring in popularity in present times. They require minimal elbow grease when slicing or carving meat due to their electric blades that deliver unmatched efficiency. Featuring automatic back and forth movement, you're assured of perfect and smooth cuts.
5. What's the difference between a carving and a chef's knife?
While a carving knife is more of a specialty blade than a multipurpose option, a chef's knife is designed with versatility in mind. Carving knives have a straight blade with a pointed tip, whereas the blade of a chef's knife is slightly curved, allowing a rocking motion to finely chop foods.
6. How do you sharpen a carving knife?
As is the case with other knives, carving blades become dull over time due to consistent use or cutting against hard surfaces such as countertops. When the blade becomes blunt, the next course of action is to sharpen it using an automated sharpener, flat stone, or leather strop.
When using a leather strop or flat stone, hold the blade at a 25 to 30-degree angle as you move it back and forth. Remember to sharpen both for uniformity. An automated sharpener entails placing the blade in it and powering it on.
7. What are the different uses of a carving knife?
The main purpose of a carver is cutting poultry, ham, beef, and other meat options. Given the thinner blade, cutting more precise slices is a walk in the park. It also comes in handy to fillet large fish. In Europe and the US, the best carving knife is the go-to for slicing turkey and other large roasts during Thanksgiving. This blade's versatility makes it ideal for other tasks in your kitchen, such as preparing ingredients and slicing fruits or vegetables.
8. Can you use a bread knife to carve meat?
The answer is yes and no. Yes, because the long serrated blades of bread knives can effortlessly slice through meat. No, because the knife isn't designed for carving meat and will get damaged when used on tough roast beef. Keep in mind that a bread knife lacks a pointed tip which makes removing meat from bones an uphill task. To avoid this predicament, use a knife solely for its intended purpose.
9. How do you carve a turkey like an expert?
When Thanksgiving rolls around, there's no denying that turkeys are the go-to birds for the perfect feast. The secret to reveling in this poultry meat is learning how to carve it like a pro. Therefore, you'll need a large chopping board with a groove for collecting all the juices, a platter, and a secondary cutting board. During the carving process, always follow the natural separations, lines, and bones for fine meat slices.
Start by taking out the drumstick or thigh by slipping the knife between the breast and leg. Secondly, cut along the mid breastbone to remove the breast. Thirdly, cut through the joint that connects the wings to the backbone. Doing so takes out the wings. Lastly, after disassembling the turkey, carve it into thin slices of meat of your desired thickness.
The Bottom Line
While carving knives may look simple, there's a lot of moving parts before you can find an option that best suits your needs. The best carving knife guarantees sharpness, durability, ease of use, balance, comfort, versatility, and more. With the wealth of information provided, you can now narrow down your search to a product that will give you value for your money.
Best Cleaver Knife Brands Comparison