Best Smoker Thermometer
Greg
It is almost impossible to produce perfect low and slow barbecues with an inconsistent smoker temperature. A digital smoker thermometer removes the guesswork from grilling and smoking meat, and with it the potential of ruining your food after hours of hard work. The smoker's built-in thermometer is often misleading as it takes readings inches away from where the food is placed. Consequently, it is good practice to determine the internal temperature of the food being preparedin addition to the prevailing temperature within the cooking chamber.
This article is a review of some of the best smoker thermometers in terms of practicality, affordability, and supporting reviews from recognized authorities in the smoking world. It is also a buyers' guide for those looking to upgrade or invest in their first smoker thermometer. We haven't ranked them in any particular order as each tool has its strengths and applications.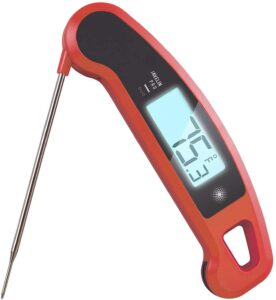 Features
Number of probes: 1
Accuracy: +/- 0.9˚F
Temperature range: 40˚F to 482˚F
Maximum temperature: 482˚F
Probe length: 2.75"
Power source: 1 Lithium metal battery
Display size: 2"
Speed: 3-4 seconds
Warranty: 3 years
This is a new installment of Lavatools' high-end precision kitchen measurement tools for the modern chef. It has a speedy response time of fewer than three seconds because it has been supercharged with an ultrasensitive Japanese sensor with an accuracy rating of ±0.9˚F
It features a large two-inch ambidextrous display with a 360˚ view. The screen is backlit and auto rotates depending on how you are holding the device, facilitatingremarkable clarity from all viewing angles.
It has IP65 rated splash-proof construction and is NSF certified for commercial and professional use, which is a testament to the build quality. Lavatools only use quality impact-resistant polymers that are immune to warping and cracking under duress. They are 100% BPA free and the meat probe which houses the super sensor is made of food-grade stainless steel that is both safe and durable.
An intelligent stabilization alert communicates when the smoker settles on a constant cooking temperature and the smoker thermometer can hold this read-out for future reference. It will beep to inform you once the internal temperature has been attained so you don't have to keep peering into the cooker or guessing the temperature. There is no heat loss as a result of the unnecessary opening of the cooking chamber.
It is powered by a single lithium metal battery with a continuous use capacity of 4,000 plus hours which should last through numerous cooking cycles. It features an integrated magnet for convenient storage.
The Javelin PRO Duo is covered by a 3-year limited warranty; among the longest in the industry.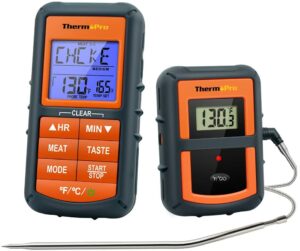 Features
Number of probes: 1
Accuracy: ± 1.8˚F
Temperature range: 32˚F to 572˚F
Maximum temperature: 572˚F
Probe length: 6.5"
Cable length: 40"
Power source: 4 AAA batteries
Remote range: 300 ft.
Warranty: 3 years
The 300 feet remote radius allows you to monitor your meat with this wireless grill thermometer from wherever you are in the house or the yard. It saves you a lot oftrips to and from the smoker to check on your food.
It uses a 6.5-inch food-grade stainless-steel probe to capture the internal temperature of your food. This has a wide temperature range of between 32 to 572˚F and great accuracy at +/- 1.8˚F.It is connected to the cooking thermometer via a 40-inch stainless-steel mesh cable which is enough allowance for use in most cooking appliances.
The thermometer comes with up to 10 preset temperatures and five doneness levels (rare, medium-rare, medium, medium-well, and well done) which can be customized to suit your specific cooking standards. You can set different temperatures for these levels depending on the type of meat since beef, poultry, veal, pork, lamb, and fish reach doneness at different temperatures.
The receiver has a backlit LCD with three colors (blue, green, and red) which provide a visual indication of how close your meat is to getting done as per your programming. It displays both the timer and temperature at the same time, so you don't need to press buttons to view the information. A glance at the receiver provides all the information you need. The thermometer will still beep and flash when the meat attains the required temperature.
The TP07S comes with a multifunctional timer and alarm which counts down and up, enabling you to keep track of your side dishes as well without having to use a separate timer.
It is covered by a three-year warranty and a 30-day money-back guarantee in case you are unhappy with the product.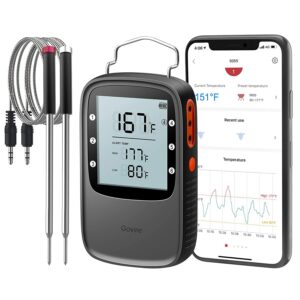 Features
Number of probes: 2
Accuracy: ± 1˚F up to 302˚F and ± 2˚ above 302˚F
Temperature range: 32 to 572˚F
Maximum temperature: 572˚F
Probe length: 5.5"
Cable length: 39"
Power source: 2 AA batteries
Remote range: 196 ft.
Warranty: 1 year
This Bluetooth meat thermometer utilizesfood-grade heat resistant 304stainless-steel probes with a reliable +/- 1.8˚F accuracy and a fast two-second refresh rate. Two of them are included in the package.
It is capable of up to 196 feet of remote monitoring via Bluetooth, eliminating the need to stand guard next to the smoker or oven. This frees you to spend time with family and friends or get other tasks done. The information will be transferred to yoursmartphone so long as you are within the Bluetooth range.You only need to download the Govee Home App to your smartphone, turn on Bluetooth and location, open the app, and complete the connection process following the straightforward instructions.
There is no cause for alarm if you are yet to master the ideal temperatures for different food types. The Govee Home App has USDA-recommended food temperature suggestions for different doneness levels and meat types including pork, turkey, chicken, fish, lamb, and more. The meter beeps and your phone vibrates to alert you when your preset food temperature is exceeded, preventing overcooking or burning the food. A notification will be sent to your Govee Home App immediately after this happens.
The thermometer is designed to facilitate numerous placement options with a strong magnetyou can mount on any metallic surface, a foldable stand that allows you to place it vertically on a surface, so the display is readable, and a hanging hook. The display is backlit so the temperature can be monitored continuously even at night. The light automatically turns off after 10 seconds to save battery life. A full battery cycle gives approximately 350 hours.
You can tell how your smoker is performing on the Govee Home App as it graphs temperature readings for the past hour.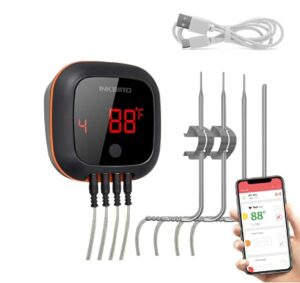 Features
Number of probes: 4
Accuracy: ± 2˚F
Temperature range: 32 to 572˚F short time and 32 to 482˚F continuous
Maximum temperature: 572˚F
Probe length: 4.9 ft.
Power source: 1 rechargeable lithium polymer battery
Remote range: 150 ft.
Warranty: 1 year
You can select from 11 different meat types and fivedifferent levels of doneness. The preset values are saved even when you power off the thermometer. The package has three meat probes and one ambient temperature probe so you can compare the temperature in the cooking chamber and the food temperature throughout the cooking process. It also allows you to monitor three different meats at the same time. The thermometer graphs the temperature changes so you can backtrace and determine exactly how long the food was in the smoker and the temperature it was cooking at.
It has a high-temperature accuracy of +/- 2˚F and an impressive temperature range of between 32 and 572˚F for short-time measurements and 32 to 482˚F for continuous monitoring.You are notified when your preset temperature is reached so you don't need to worry about overcooking or undercooking. It also signals you when it powers off or you lose the link.
It is powered by a built-in rechargeable1,000 mAh lithium polymer battery which will give you up to 40 hours of continuous service when fully charged. The battery is chargeable as you cook so you don't need to interrupt your grilling by powering it off. It comes with a 1.64-foot charging cable.
The large LCD screen will display when the charge is running low so you don't get caught off-guard. The display is rotatable at the touch of a button which comes in handy when the probe wires get in the way because you can view it from another angle. An inbuilt magnet enables you to stick the base unit onto your oven or smoker, allowing it to blendin nicely as part of the cooking assembly.
It has a 150-foot Bluetooth radius which allows you to monitor the cooking process from your smartphone so long as you are withinrange. All the information on the LCD screen is duplicated on your phone's screen so you don't need to stay away from your guests or miss the action if you are watching a game when on cooking duty.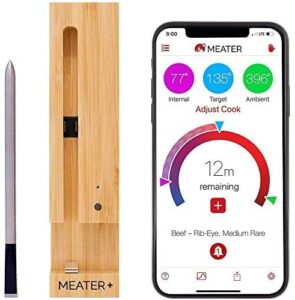 Features
Number of probes: 1
Accuracy: ± 1˚F
Maximum temperature: 527˚F
Power source: 1 AAA battery
Remote range: 165 ft.
Warranty: 1 year
This unit comes with a rugged probe made of a water-resistant, dust-proof, and easy-to-clean stainless-steel body and a ceramic handle which has been hardened in a 1200˚F kiln for exceptional heat tolerance. It is also dishwasher safe. The probe has two sensors; a K-type thermocouple sensor built into the ceramic handle that measures the ambient temperature close to the food and another one that measures the internal meat temperature.
It is conveniently wireless so all you need to do is stick the probe far enough into the meat so that the food is between the ceramic handle and the safety notch, and it will communicate the reading to the receiver. This makes it suitable for outdoor cooking and eliminates wire interference. The temperature readings have a high accuracy of +/- 1˚F with a maximum internal heat monitoring capacity of 212˚F and external/ ambient capacity of 527˚F.
It is powered by a single AAA battery which can power the probe up to 100 times per charge cycle. Charging is done on a sleek bamboo charging dock.It can be attached to any metallic surface thanks to its magnetic backing.
The smart thermometer has a guided cookingsystem from its initial programming that can take you through the entire process for consistent results. It uses an advanced estimator algorithm to approximate how long your food should be cooked for the required result, so you can plan and synchronize your activities for the day. You can customize the temperature setting to your preference if you feel like it doesn't match your cooking style. You will get an alert when the desired temperature is attained and when the food is ready.
The smoker thermometer pairs with your smartphone via Bluetooth whose reach has been enhanced using a Bluetooth repeater, expanding its radius to an impressive 165 feet. You can use this to monitor the cooking from your smartphone or tablet or download the free MEATER App and use the MEATER Link WiFi and MEATER Cloud to extend your range and monitor from a computer.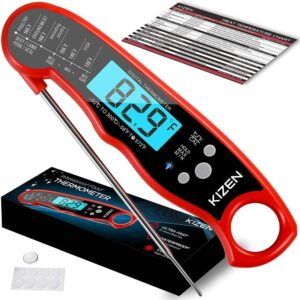 Features
Number of probes: 1
Accuracy: ± 1˚F
Temperature range: -58˚F to 572˚F
Maximum temperature: 572˚F
Probe length: 4.3"
Power source: 1 lithium metal battery
Warranty: Lifetime
This digital thermometer comes with a large backlit LED display which ensures you can read the temperature regardless of the prevailing lighting conditions. The instant reading within three seconds gives ample time to adjust and eliminates guesswork from the cooking process. The wide temperature ranges from -58˚F to 572˚F ensures accurate temperature readings for a wide variety of cooking styles.
It automatically turns on and off as you open and close the probe. The LED light shuts off after 10 minutes of continuous use to save on battery consumption. It has multiple settings to customize your experience. You can adjust the display lighting based on prevailing conditions. You can also toggle between Fahrenheit and Celsius degree readings, hold the temperature, record maximum and minimum calibration settings and temperatures attained.
An inbuilt magnet allows you to mount it on the fridge or any other metal surface for storage. Ithas a large hanging hole that can be used for storage and easy carrying but also doubles as a bottle opener. You can crack a brew as you barbeque!The slim design opens a wide range of storage options. The waterproof material is rated IP67 so the thermometer can be cleaned using running water. The strong plastic body will endure accidental drops and other impacts.
It is powered by a lithium metal battery and the package comes with two CR2032 batteries; one preinstalled and one spare. They also throw in a meat temperature guide with four loops that you can use to hang it on the wall for easy reference along with the user manual.
This instantread thermometer is covered by Kizens' lifetime warranty for added peace of mind.
Buyers' Guide: How to Choose the Best Smoker Thermometer
Accuracy
Smoking relies on accuracy to get the job done. You need assurance that the inside is as done as the outside and you don't get a lot of opportunities to make amendments if it goes south. The disparity on your smoker thermometer should not go beyond ± 2˚F.
Temperature Range
Anything between 200 and 250˚F is sufficient for smoking which uses relatively low heat. Sometimes your smoker is capable of more than just smoking and you may consider thermometers which are useful with other cooking methods like baking and grilling (check out our review featuring some of the most versatile smokers for beginners). Smoker thermometers with a high maximum temperature allow you to monitor food temperatures in these circumstances.
Probe Design
Wireless probes are easier to manage than wired probes because there are fewer tangles and interferences. They also have fewer components to clean which are also prone to corrode and wear down. These advantages also mean they come at a higher price point which may push the thermometer beyond your budget. They are the better option if your resources are sufficient.
Wireless Remote Range
The remote range that you need varies with the setup of the cookout. Most smokers will only need to be covered from the backyard to the house if you want to participate in other activities. Anything between 150 to 200 feet should be sufficient.
Warranty
The knowledge that you qualify for a warranty boosts your confidence that you are investing in the best smoker thermometer. It implies the manufacturer is also confident in their product. Most thermometers will come with a year's warranty but there are some with up to three years. If you are lucky you will get a lifetime warranty.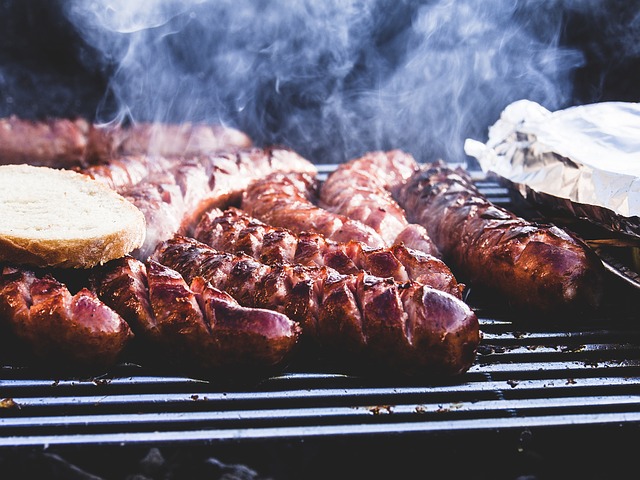 FAQ
Why Does the Temperature Reading on My Thermometer Seem Way Off?
This is caused by many reasons. The probe might be pinched or damaged, it might have come into contact with water or directly with the flame. You need to inspect it for damages. A lot of the time it is just a matter of placement. The probe may not be far enough into the food to get an accurate reading or it might have come in contact with bone, skewing the reading.
Why Should I get a Probe Thermometer When My Smoker Already Has an Inbuilt DialThermometer?
The inbuilt thermometer will give a reading of the ambient temperature inside the smoker which does not have sufficient precision for quality smoking. The food might have come from the freezer, meaning it needs to thaw first and it's also hard to know just how hot the food is as it needs time to take in the heat. Getting the actual temperature of the food requires a probe. It also allows you to monitor different foods with different heat requirements at the same time.