Magnetic Knife Block – A Good Solution for Knife Storage + Our Top Picks
Greg
A magnetic knife block is one of the safest and most convenient ways to store knives. It offers versatility in being able to move the knives around your kitchen counter. Unlike a regular knife block, it has built-in magnets that hold the knife securely, instead of slots.
This article will review the best magnetic knife blocks on Amazon and provide a buying guide for choosing the most suitable option for you.
6 Best Magnetic Knife Blocks Reviews
1. Best Budget: Coninx Magnetic Knife Block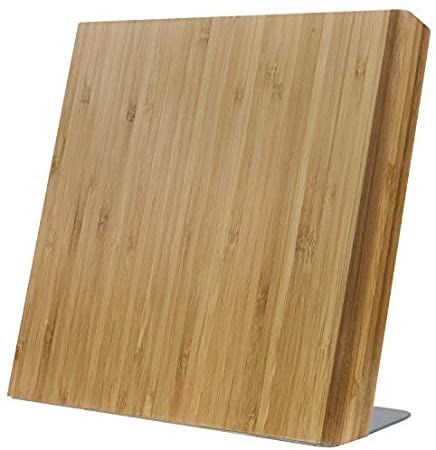 Material: Bamboo
Color: Brown
Number of knife slots: 5
Block Dimensions: 1.38 X 9.06 X 8.66 inches
Base width: 4.72 inches
Magnetized side: 2/3 of the front side
Maximum blade length: 9 inches
The Coninx magnetic knife block has an elegant and functional design. It is made of natural bamboo wood for sustainable and safe use. The bamboo wood also makes it easy to clean.
It has a non-slip base that keeps it sturdy even when holding heavier and bigger knives. The base is finished with anti-skid felts making it safe to use on slippery counters.
A super magnet (1050Gs) is built into the wooden block. The front side is magnetic in the upper two-thirds of the area. The block easily draws in the knives, and it is also easy to remove knives from the block.
This wooden knife block has 5 knife slots measuring 4.5 to 9 inches. The manufacturer offers a lifetime guarantee.
Pros
Super-strong magnet
Sturdy, non-slip base
Can hold 5 knives
Elegant design
Easy to clean
Affordable
Cons
The block wobbles when pulling out the knives
Single-sided
2. Best Premium: 360 Knife Block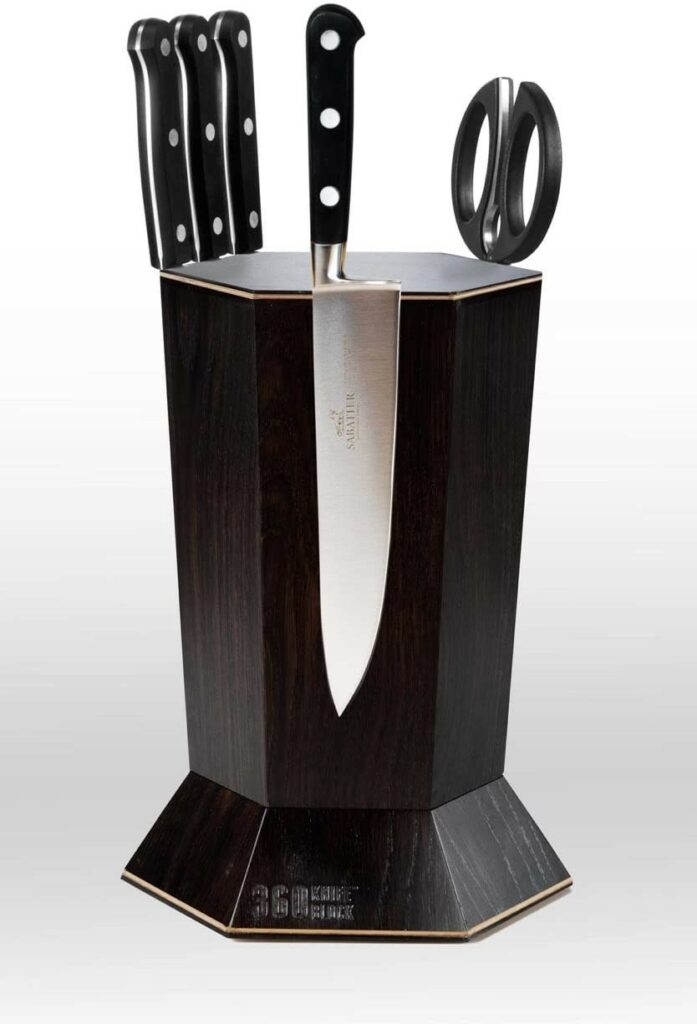 Material: Wood
Color: 4 options
Number of knife slots: 6-14
Block Dimensions: 11.24 X 8.25 inches
Base diameter: 8.25 inches
Magnetized side: All-round
Maximum blade length: 9 inches
This is a unique magnetic knife block with a hexagonal rotating design. It is designed by Henry Legget and hand-made in America by Design Trifecta.
It has 30 neodymium rare earth magnets strategically embedded within the block. Each side of the block has five magnets such that there are three top magnets to holds small knives, one in the middle for shears, and one at the bottom to grab on to heavier and larger knives.
It is compact yet offers adequate storage space. Each side holds up to three knives so, in total, it can hold between 6 and 14 different types and sizes of knives. It can also hold sheers and any other metallic kitchen tools.
The 10-pound base is custom-made using solid stainless steel. It is padded at the bottom to avoid tipping over when removing knives or holding heavy knives. The rotating blocks make it easy to access knives.
It is easy to clean by wiping it down with butcher block oil. This block is available in 4 models that vary in size and color. The original 360KB can hold up to 9-inch blades while the 360KB MAX model can hold up to 12-inch knives. The blocks are available in 4 color options: honey bamboo, American quarter sawn walnut, ebonized, and bubinga pomele.
Pros
Compact, space-saving design
Available in a variety of colors
Can hold up to 16 knives
Unique rotating design
Made in the USA
Sturdy base
Hand made
Cons
3. Best Wooden: Secura Magnetic Knife Block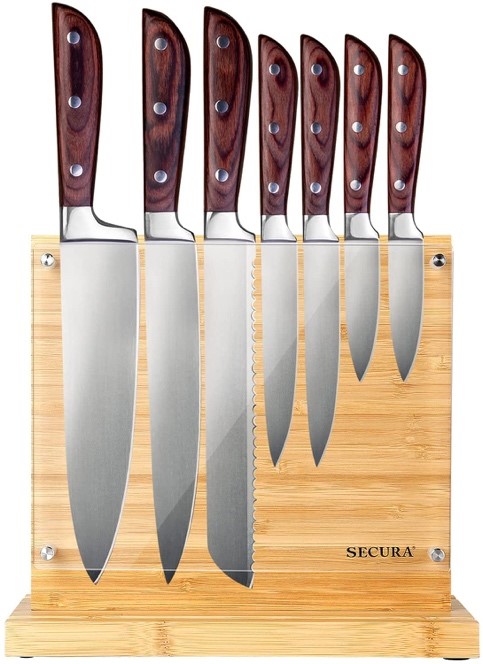 Material: Wood
Color: Bamboo brown
Number of knife slots: up to 10
Block Dimensions: 10 X 4.5 X 9.5 inches
Base width: 4.5 inches
Magnetized side: Both sides
Maximum blade length: 8.5 inches
This is a double-sided, bamboo magnetic knife block. The natural bamboo finish gives it a beautiful look. It is available in two sizes: 12-inch and 10-inch. The 10-inch block can hold knives with blades measuring up to 8.5 inches and can store up to 10 knives.
It is embedded with 4 super-strong magnets (1000Gs) that provide magnetism around the block. Not only is it suitable for a wide range of knives, but it can also be used to hold other metallic kitchen tools such as shears and bottle openers. It has a wide, 4.5-inch base that is fitted with anti-slip feet at the bottom. It holds steady even when placed on slippery countertops.
The block is covered with protective acrylic that eliminates the potential for injuries caused by sharp blades. The acrylic cover also makes cleaning the block easy. This magnetic block comes with a spout brush as a gift for easy cleaning. The manufacturer warns against cleaning the block with harsh detergents as they may damage the acrylic layer.
Pros
Can store a wide range of knives and other metallic tools
Comes with a free spout brush
Stylish bamboo finish
Sturdy, non-slip base
Double-sided
Easy to clean
Cons
Not suitable for smaller knives
4. Best Metallic: EVV Magnetic Knife Block Holder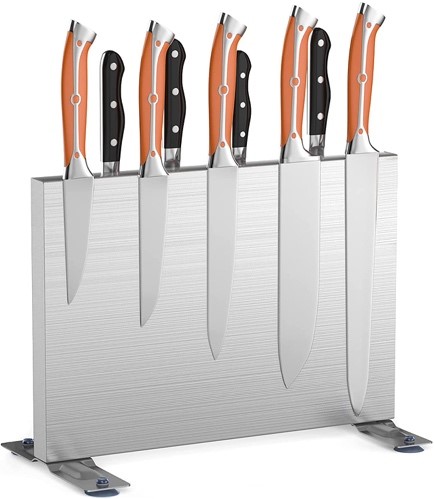 Material: Stainless steel
Color: Silver
Number of knife slots: Varies depending on the size of the knives
Block Dimensions: 11.8 X 8.2 X 1 inches
Base diameter: 10 inches
Magnetized side: Both sides
Maximum blade length: 6 inches
The EVV magnetic knife holder is made up of steel. The 304 stainless steel material is fully sealed to ensure that the block is rust-resistant and waterproof. The stainless steel material makes it quite sturdy.
The block is embedded with magnets and has an elegant satin finish. The magnets are also strong and can support heavier and bigger knives. Since it is double-sided, it can hold more knives than most magnetic knife blocks on the market.
At the bottom, is detachable mounting hardware that enables you to set up the knife holder upright. Since the knife block is delivered with the mount unattached, the manufacturer provides clear instructions for mounting it.
Pros
Offers ample storage space
Easy to assemble
Strong magnets
Easy to clean
Double-sided
Waterproof
Sturdy
Cons
5. Navaris Wooden Magnetic Knife Holder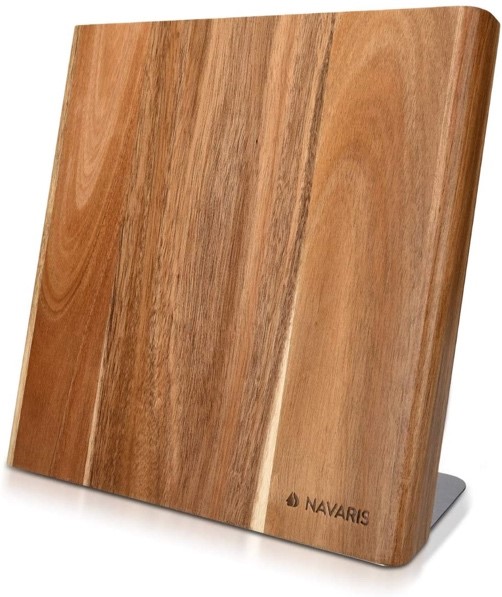 Material: Wood
Color: Different colors including black and brown
Number of knife slots: 6
Block Dimensions: 1.37 X 10.9 X 10.8 inches
Base width: 4.72 inches
Magnetized side: 2/3 of the front side
Maximum blade length: 9"
The Navaris magnetic knife block has a stylish Acacia finish. It can store both knives and scissors. It can be used with all types of knives including steak knives, bread knives, chef knives, etc. It is tall enough to fit longer knives.
It has a non-slip base with a rubber finish. It is fitted with built-in magnets on the top 2/3 of the block that holds the knives firmly without slipping or wobbling.
The manufacturer recommends wiping clean only as it is not dishwasher safe. This block model is available in different sizes and colors. Since it is made from natural wood, each unit may vary in the finish of the grain.
Pros
Firm base that does not tip or wobble when removing knives
Easy to insert and remove knives
Can fit up to 6 knives
Strong magnet
Stylish design
Cons
6. Boker 30400 Wood Magnetic Knife Block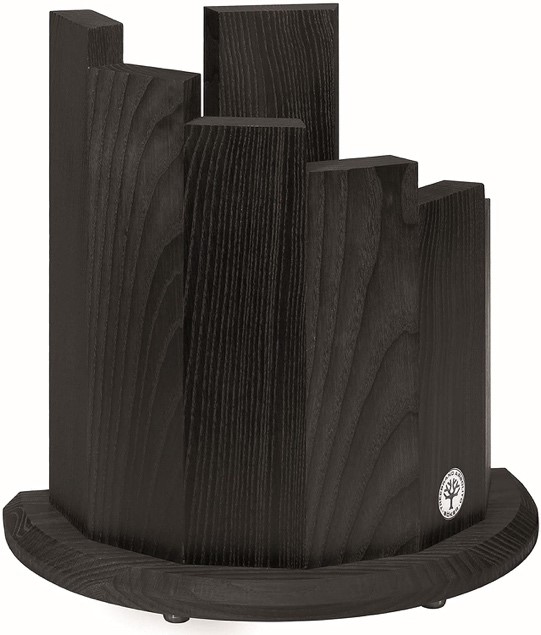 Material: Wood
Color: Black
Number of knife slots: 7
Block Dimensions: 11.25 X 10 X 6 inches
Base diameter: 10 inches
Magnetized side: Front side of each panel
Maximum blade length: 11 inches
This is another magnetic knife block with a unique design. It's made by the infamous Boker Knife factory in Germany. Boker has been manufacturing knives for over 145 years. Boker products are handmade and of exceptional quality and this magnetic knife block is no exception. They back up the product with a lifetime warranty.
It is made up of 7 wooden (chestnut) panels that are connected and fitted into a base. Each panel has embedded magnets. The magnetism is stronger on the front side and weak on the inner side. Panels are of different heights to enable you to store different sizes of knives.
According to the manufacturer, this magnetic block is compatible with chef's knives, paring knives, bread knives, and utility knives. There are no slots between the panels which makes the block easy to clean.
Pros
Accommodates different knife sizes
High-quality design
Lifetime warranty
German-made
Easy to clean
Sturdy base
Cons
Some people find it smaller than they expected
One-sided
Magnetic Knife Blocks Buying Guide
Below are factors to consider when choosing a magnetic knife block:
Size
Magnetic knife blocks are available in different sizes and with different knife holding capacities. When determining which one to buy, consider the number of knives you would like to store and the amount of counter space you have for the knife block.
Magnetic Block Design
Magnetic knife blocks have magnets embedded inside the block. While some have magnetism on all sides, in others, the magnetism is on one side – in most cases the front side. Since the magnet is embedded in the wood, this design protects the knife's blade from friction or scratches that would result from direct contact with other knives and surfaces.
Most magnetic strips are rectangular with a wider base for sturdiness. A few have unique designs such as the rotating 360 Knife Block and the Boker 30400 Wood Magnetic Knife Block reviewed above. Some, such as the Kitory Magnetic Knife Block are foldable.
When it comes to shape and design, it's all about your preferences and the convenience a given design offers you.
Strength of The Magnet
The best magnetic knife blocks have just the right level of magnetism. If it is too weak, the knives slip off or fall. If it is too strong, it makes it hard to remove the knife from the block.
Aesthetics
The magnetic knife block will be sitting on your kitchen countertop so it should match or enhance the aesthetics of your kitchen. Go for one that is consistent with the color scheme and style of your décor.
Material
Most magnetic knife blocks are made of wood, while a few are made of other materials like stainless steel. Those made of wood are sturdy as long as they have a wide base with a non-slip bottom.
Stainless steel knife blocks are sturdier than wooden ones. They hold heavier and larger knives more firmly. The main drawback with stainless steel magnetic blocks is that the metallic surface may cause scratches on the knives' blades.
Pros and Cons of a Magnetic Knife Block
Pros
Can be used to store other metallic utensils such as spatulas, sharpening rods, etc.
Knives are easily accessible as you have a clear view of all the knives
Safer kitchen knife storage option than drawers
Prevents the knives from getting dull
Easily portable
Easy to clean
Saves space
Cons
If the magnetic block has weak magnetism the knives fall off
Knives are easily accessible to children and pets
Knives are exposed so they get dirty easily
How to Remove a Knife from a Magnetic Knife Holder
Hold the knife firmly. Apply effort as you pull the knife away from the strip. Do not drag the blade against the magnetic strip as this may dull the cutting edge or cause scratches on the knife blade.
Care and maintenance of Magnetic Knife Blocks
Cleaning
Most manufacturers recommend wiping clean only either with a dry or damp soft cloth. Magnetic knife holders are not dishwasher safe. Also, they should not be soaked in water.
Most of the blocks are wooden with built-in stainless steel magnetic knife strip. Wood is prone to rotting while stainless steel is prone to corrosion and rusting when exposed to water for long periods.
Placement
The best location for a magnetic knife block is the countertop or any other open space. Since the knives are exposed, keep the block out of reach of children and pets. Also, keep it at least two feet away from items that may be damaged by a magnetic field.
Conclusion
If you are looking for a tool for storing your knives, consider a magnetic knife block. The best ones hold your knives securely and optimize counter space. When determining which one is right for you, consider the size and type of knives in your kitchen, available counter space, overall kitchen décor, and your personal preferences.
Best Magnetic Knife Blocks Comparison