11 Best Oyster Knives of 2021: Become a Pro in Shucking!
Greg
There are tons of crazy make-shift tools people have utilized to shuck oysters over the years.
For example, are you surprised to learn that you can use car keys instead of an oyster knife? While it's not the most glamorous option, those without the proper tools for shellfish must make do!
However, if you happen to be a shellfish connoisseur, you probably don't have to resort to car keys. You likely have a couple of oyster shucking knives in your drawer.
While anyone can go out and purchase basic shucking knives, having some of the right quality can truly make a difference. Any good oyster shucker knows the right tool can make opening an oyster shell a breeze.
If you're looking to buy the best tools for the job, you are in luck! Below you will find our list of the best oyster knives of 2021.
11 Best Oyster Knives
1. Put 'Em Back Oyster Shucking Knife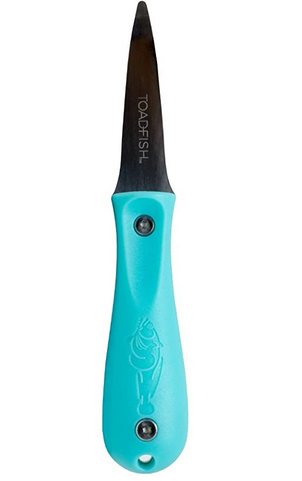 Product Features
Product Dimensions: 8.8 x 3 x 1.5 inches
Item Weight: 5.6 ounces
Color: Toadfish Teal
Oyster lovers, fishermen, and women will find this oyster knife convenient, thanks to its dishwasher-safe feature and sharpened sides.
There is also a thumbprint design of the knife's silicone handle that eliminates slipping, making shucking oysters with wet hands much easier. It' also features a stainless steel blade that is bent on the tip, making it easy to pop open raw oysters.
Pros
Rust-resistant stainless steel sturdy blade
100% customer satisfaction guarantee
Shucks raw and steamed oysters
Full-length knife blade
Non-slip ergonomic plastic handle
Cons
Can't shuck raw large 'rock' oysters
2. HiCoup Oyster Shucking Knife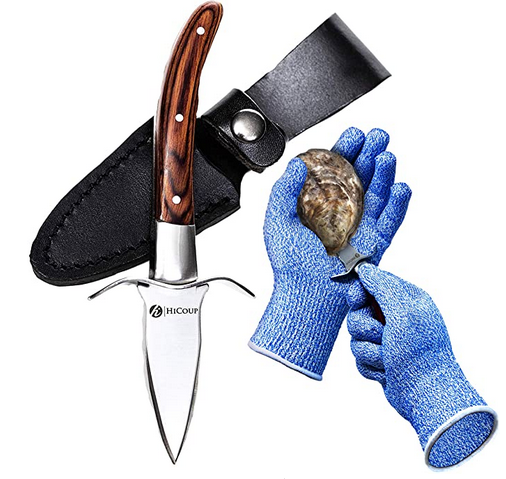 Product Features
Product Dimensions: 6.5 x 2.5 x 0.6 inches
Item Weight: 0.02 Pounds
Color: Pakka wood
The HiCoup oyster knife is tiny, and you might assume it's only ideal for shucking small oysters. However, its sturdy blade can tackle large oysters too, making it a chef favorite.
This knife is an ideal choice for domestic and commercial purposes. The high carbon stainless steel blade is thick, so it easily slides into an oyster for quicker shucking. Additionally, the knife is fitted with a handguard and a non-slip pakka handle to give you a better grip.
Pros
Shucks all types of oysters
Comes with a free leather sheath and shucking gloves
Pointy tip for more effortless oyster opening
Ideal for commercial purposes
Ideal for gift-giving
Cons
3. Melocean Oyster Shucking Knife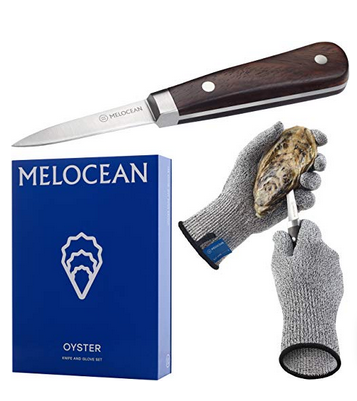 Product Features
Product Dimensions: 6.3 x 0.59 x 0.79 inches
Item Weight: 11.3 ounces
Gloves sizes: Small/Medium/Large/Extra-large
The 420 stainless blade assures you of a great oyster shucking experience. Running through the handle, it's not sharp to the end, and it easily lifts an oyster from the shell whole.
The strong wooden handle has a fine finish to give you comfort. Plus, the Melocean oyster knives come with cut-resistant, breathable gloves to safeguard your hands from cuts. Confident about the product's quality, the manufacturer provides a 100% money-back guarantee.
Pros
Non-slip ergonomic wood handle
Strong tipped, sharp-edged blade
Items arranged in a good looking box – ideal for a gift
Comes with breathable, lightweight, washable shucking gloves
Shucking glove available in different sizes
Cons
The blade is too sharp and sometimes separates from the handle
4. Dexter-Russell New Haven Style Oyster Shucking Knife

Product Features
Product Dimensions: 9.5 x 2 x 0.55 inches
Item Weight: 0.17 Pounds
Color: Original version
Dexter-Russel is renowned for making high-quality cutlery. The New Haven Style Oyster Shucking Knife is no exception. It has a sani-safe handle that features the new haven pattern for a secure grip.
Therefore, chances of the knife slipping and injuring you are minimal. The knife is also sturdy since the blade runs through the handle, with a helpful pointed tip.
Pros
A strong blade that doesn't bend easily
NSF certified
Ideal for medium and large oysters
Great for professional oyster shucking
Features a non-slip handle
Cons
Not dish-washable
Expensive
5. OXO Stainless Steel Non-Slip Oyster Knife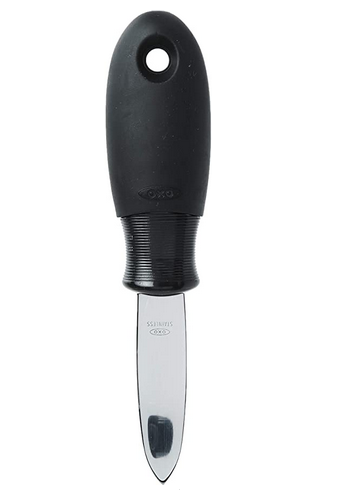 Product Features
Product Dimensions: 6.75 x 1.38 x 1 inches
Item Weight: 1. 58 ounces
Color: Black/Silver
The blade on this oyster knife is made from commercial stainless steel, making it a long-lasting choice. Note that when it comes to this knife, it is designed for shucking rather than cutting and slicing.
For that reason, the tip of the blade is bent, without a straight edge. You'll love the comfort offered by the ergonomic design of the handle – it will enable you to shuck as many oysters as you want with minimal effort.
Pros
Sturdy, long-lasting blade
Comfy non-slip handle
Dishwasher safe
Ideal for both professional and domestic use
Fairly priced
Cons
The blade is not sharp enough to clean-cut oyster muscles
6. Victorinox VN Fixed Blade Oyster Shucking Knife

Product Features
Product Dimensions: 8 x 1.5 x 0.75 inches
Item Weight: 0.2 Pounds
Color: Red
This knife is comfortable in hand, with a uniquely designed handle to give you a better grip. It's made of rubber and features a protruding front and rear that supports your thumb, making it both comfortable and slip-free.
Since it's made from high carbon steel, the 4-inch blade lasts longer than other standard oyster knives. This knife is for you if you like the side entry method, thanks to its thin blade.
Pros
Dishwasher friendly
Ideal for commercial purposes
Thin blade easily slides into hinges
Curved tip for faster shucking
A strong blade that doesn't easily bend
Cons
Lacks a protective handguard
7. Winco Oyster/Clam Shucking Knife

Product Features
Product Dimensions: 6 x 1.75 x 1.25 inches
Item Weight: 0.03 Pounds
The Winco oyster shucking blade is made of stainless steel, meaning you won't need to worry about bending and breakages.
The smooth wooden handle gives you a perfect grip and comfort to shuck as many oysters as possible. Plus, the knife is fitted with a handguard for additional safety, making it a good oyster knife for beginners.
Pros
Doesn't get scratched easily
Has a protective handguard
Made of durable stainless steel
Dishwasher safe
Features a smooth non-slip wooden handle
Cons
The handle bends under extreme pressure
8. Wendom Oyster Shucking Knife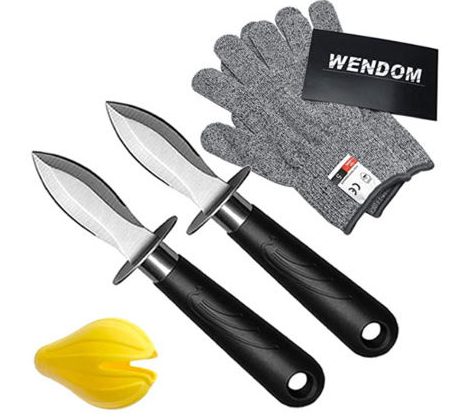 Product Features
Product Dimensions: 6 x 1.75 x 1.25 inches
Item Weight: 0.03 Pounds
If you're worried about kitchen safety, this may be the knife for you! The Wendom oyster knife comes with free high-quality cut-resistant gloves for added safety.
It also has a handguard, making it an ideal tool for newer shuckers. The blade on this knife is made of long-lasting 3CR13 Stainless Steel, professionally sharpened for effortless shucking. On top of it all, each purchase comes with a free lemon squeezer and a 100% money-back guarantee!
Pros
Comes with level 5 free cut-resistant gloves
Each package comprises two oyster shucking knives
Features a non-slip handle
Has a sturdy, sharp blade
Excellent choice for newbie shuckers
Cons
The gloves are too tight for big hands
9. Rockland Guard Oyster Shucking Knife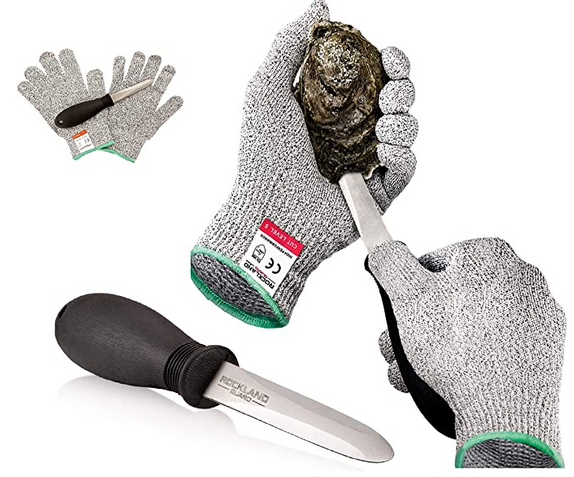 Product Features
Product Dimensions: 9.21 x 6.22 x 0.51 inches
Item Weight: 6.4 ounces
Gloves sizes: Small/Medium/Large/Extra-large
The Rockland guard oyster knife comes with a lifetime warranty, meaning you can therefore trust the quality of this product. One of the tools great features is the 3.5-inch blade.
Alongside its high carbon stainless steel construction, you can use it to shuck large-sized oysters that have tough shells. Moreover, the bent tip enables you to pry with minimal effort. As far as safety goes, the gloves are made of the highest cut resistance material you can ever find in the market.
Pros
Features a non-slip handle that fits well in the hand
Great gift idea
Dishwasher safe
Gloves available in 4 different sizes
420 carbon steel blade penetrates the toughest shells
Cons
Gloves are not waterproof
10. Zyliss Oyster Shucking Knife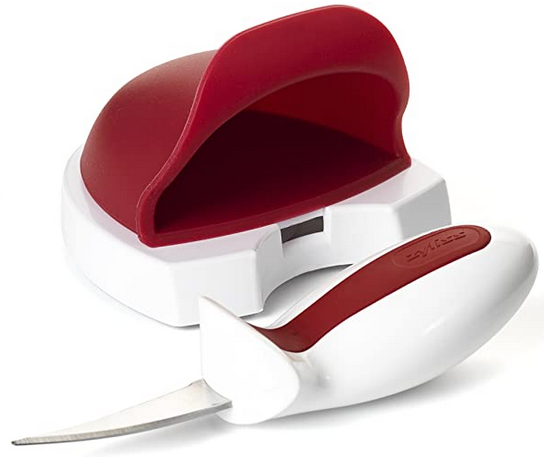 Product Features
Product Dimensions: 3.25 x 6.3 x 11.02 inches
Item Weight: 0.57 Pounds
Color: Multicolor
If you are looking for an effortless, comfortable oyster shucking experience, then your search ends here. The Zyliss shucking knife comes with a rubber pocket where you can place your oyster, then press gently on the pocket before using your knife to pop the oyster open.
You also don't need to hold the oyster pocket; it comes with non-slip legs to keep it in place. These features paired with this knife's uniquely short, curved blade make for a comfortable experience.
Pros
Dishwasher safe
Slip-resistant handle
Stainless steel blade that features a handguard
Built-in knife holder for enhanced safety and easy storage
Comes with an oyster pocket
Cons
The blade bends under extreme pressure
11. Mercer Culinary Oyster Shucking Knife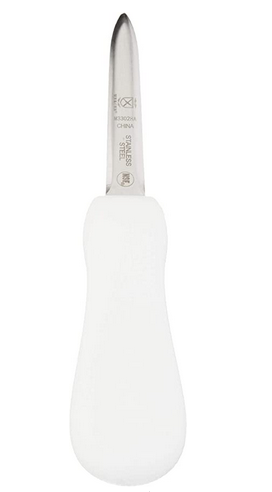 Product Features
Product Dimensions: 3 x 0.5 x 0.5 inches
Item Weight: 0.8 ounces
Color: White
The Mercy culinary oyster knife doesn't only look great, it also shucks oysters with ease! Since it is lightweight, it's a great choice when working on small or medium-sized oysters.
Though it is not dishwasher safe, this oyster knife is easy to clean, thanks to its stain-resistant blade. Further, the rounded handle alongside its sturdy blade makes it a very efficient oyster shucking knife.
Pros
Rounded blade tip for more safety
Durable stain-resistant sharp blades
The textured poly handle provides a sure grip
Comfy rounded handle
NSF-approved
Cons
Not dishwasher safe
Available in one color only
Best Oyster Knives of 2021 – Buying Guide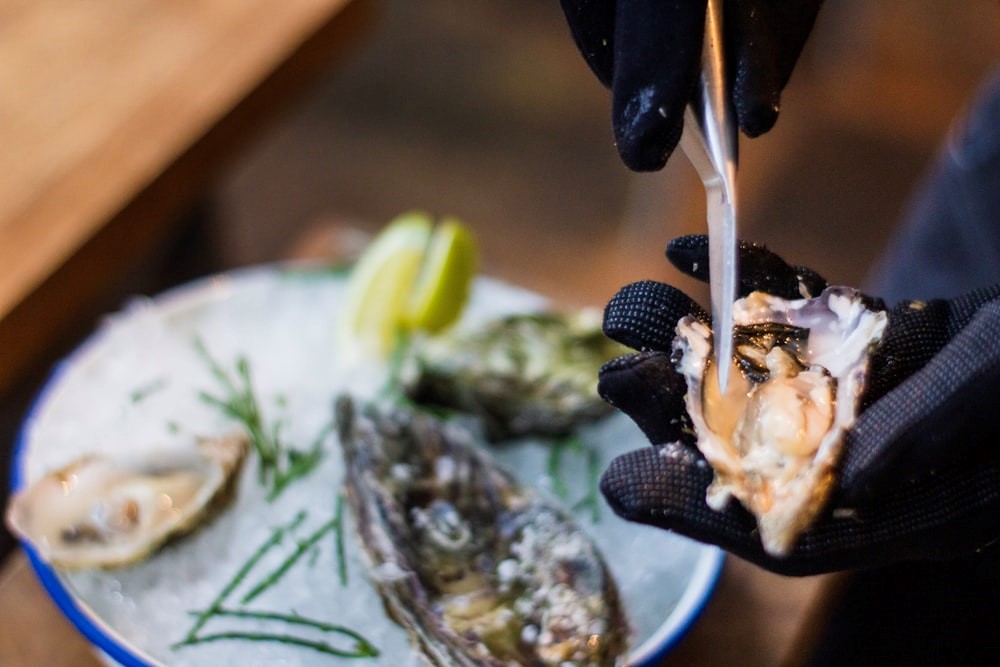 The modern marketplace is dynamic. For that reason, you might come across different types of oyster shucking knives. To minimize your chances of buying a poor quality knife, here is what you should consider:
The Blade
Oyster knives need not be sharp. After all, you'll only have to put some bit of effort when opening an oyster's abductor's muscle. The other parts are easy to deal with.
Although a knife with sharp serrated edges does the job faster, the most important aspect of the blade is its sturdiness. Otherwise, if you buy a poor-quality blade, it will bend or even break.
Salty water present in the inside of oysters can damage a poor-quality knife. Therefore, it's best to choose a knife with a stainless steel blade, preferably a 420hc.
Note that most oyster shucking knives are made of high carbon, which is prone to corrosion. As a result, they need proper care for them to last long. Lastly, it's best to buy a 3- or 2.5-inches long tool.
The Handle
Whether for commercial purposes or domestic use, you'll want as little effort as possible when shucking your oysters. Be sure to choose a knife that features a slip-resistant handle for both comfort and safety. Better still, confirm that it will not slip even when wet.
You may want to buy a knife with a plastic or rubber handle. If it doesn't have an irregular shape, then you've found a good knife. It is best to choose one with a round shape for a secure grip.
Although some oyster knives feature wooden handles, they may not be the best option when your hands become wet — wooden handles are prone to slipping.
Hand Guard
After the blade and the handle, another essential feature to look at is the handguard. The guard is located at the edge of the handle before the blade. It prevents your hand from slipping into the knife's blade when you apply a considerable amount of force.
Be sure to choose an oyster knife that features a handguard to keep yourself safe. If your knife comes with cut-resistant gloves, that's even better.
The Oyster Knife Tip
You'll hardly use your shucking knife to cut. Therefore, instead of a sharp-edged tool, go for one that has a slightly curved edge. It will help you pry your oyster easily. If you're a beginner, some patience will help. Shucking like a pro requires time and effort.
Versatility
A versatile knife will enable you to work on different types of oysters. Generally, French oyster knives or Boston oyster knives should work well with a variety of oysters. However, you'll need to choose a highly specialized knife if you only deal with only one type of oyster.
Maintenance
As stated earlier, the water on the inside of an oyster is usually salty. Therefore, your oyster knife is prone to corrosion and rusting from frequent contact with the water. If neglected, the tool may not last long. Be sure to rinse your shucking knife with fresh water before drying and storing it in a safe place.
Conclusion
When you have the right tool, the job becomes enjoyable. The same applies to shucking an oyster. You will enjoy shucking if you invest in the right oyster knife. Given that the list of the available oyster shucking knives is inexhaustible, you may find it easier to choose one from this article.
While many of the choices we listed are great, it's advisable to read reviews before buying. Remember, the market is dynamic. In case you find the reviews not good enough, feel free to jump to the next product. Your perfect oyster knife is out there!
Oyster Knives FAQs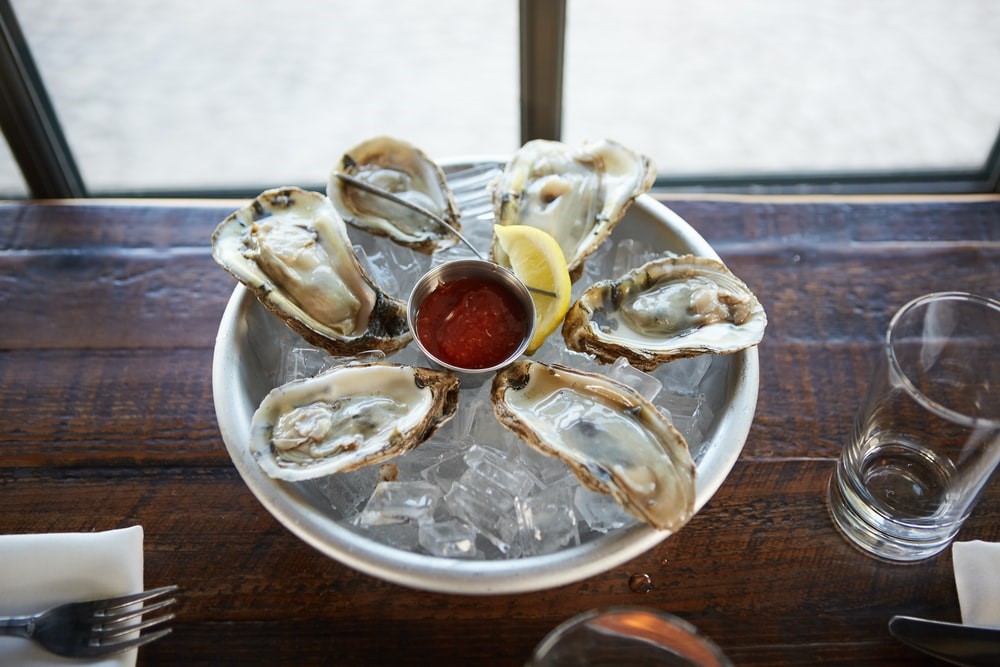 Where is an oyster knife used?
Popping open, removing meat from the shell, and cutting through an oyster's membrane are the primary uses of an oyster knife.
How can you differentiate an oyster knife from a clam knife?
Although you can use them interchangeably, the two knives are slightly different. An oyster knife has a shorter, sturdier blade that has a pointed tip. Contrarily a clam knife features a thin flat blade with a mildly sharp tip.
Are oyster knives really durable?
Yes. Oyster shucking knives are durable but with proper maintenance. Otherwise, the salty water present in oysters can result in corrosion which will necessitate replacement.
Which are the most popular professional oyster shucking knives?
Dexter-Russell oyster knife and ragonFruitee oyster knife are quite popular among professional shuckers.
Is it necessary to learn how to shuck an oyster?
If using a shucking knife, it's essential to learn how to pop open an oyster. Training reduces the chances of injuring yourself.
Does shucking kill an oyster?
Yes, shucking will either kill an oyster instantly or immobilize it momentarily.
Can you open an oyster without an oyster shucking knife?
Yes, you can use make-shift tools such as screwdrivers, regular knives, and even car keys. Alternatively, you can heat the shell to pop it open. Nonetheless, these are not the easiest ways to pry open an oyster.
Is eating raw oysters safe?
Fresh oysters can be conductors of vibriosis, an infection caused by bacteria that live in coastal waters. Since it is difficult to differentiate an oyster with the pathogens and one without, it's advisable to cook your oysters.
It's also essential to cover any cut you might be having before handling raw oysters. More also, wear high-quality oyster shucking gloves and be sure to clean them before eating.
Best Oyster Comparison