Best Smoker for Beginners
Greg
If you are on the prowl for a meat smoker, then you must already be dealing with tons of literature and recommendations. It is especially confusing if you are a newbie, and this is your initiation phase because you have no experience to fall back on. Having danced to this tune, we thought we'd make it easier on you by letting you borrow some of our knowledge before you get your own.
This article evaluates several models of the best smokers for beginners based on reviews from renowned pitmasters and recent buyers. It also reflects our own experiences and shares what we found helpful as novices. We have included a buyers' guide and an overview of different smokers to make it easier for you to make an informed decision on your first smoker.
The Best Charcoal Smoker for Beginners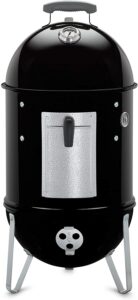 Features
Total Cooking Space: 286 sq.in
Fuel Source: Charcoal
Dimensions: 31.4"H X 14.7"W X 14.7" D
The design provides a lot of cooking space on a small footprint, allowing it to fit in tight spaces or leave room for other activities. It has two cooking grates which provide ample room for smoking meat and other foods at the same time. Combined, they offer 286 square inches of cooking space.
The enhanced heat retention ability is attributed to the porcelain-enameled lid bowl and center section. They ensure consistency and are rugged enough to endure the high temperatures without peeling, cracking, or rusting.
A built-in lid thermometer with a silicone temperature grommet monitors the internal temperature of the smoker and displays it so you are constantly aware. This way you can make adjustments withoutopening the cooking chamber and losing all the heat. The temperature can be easily manipulated using adjustable dampers. They allow a significant level of accuracy and control of the cooking process.
A water pan regulates the temperature inside the smoker and adds moisture to the heat. There is a charcoal chamber thatconsolidates the fuel so that it burns efficiently and prevents ash from falling through the dampers and blocking airflow. The fuel door comes off, making it easy to add charcoal and wood chips for smoking.
The Best Kamado Smoker for Beginners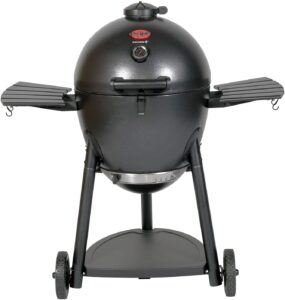 Features
Total cooking space: 447 sq.in
Fuel source: Charcoal
Dimensions: 47" H X 45" W X 31" D
Char-Griller introduced the first mass-market barrel-style charcoal grill in 1993 and has kept improving on the prototype ever since. As a result, this graphite Akorn Kamado charcoal grill has made it to this list with other top-quality smokers. It allows you to enjoy premium Kamado cooking with an affordable price tag.
It has been built to last with a triple-walled 22-gauge steel construction featuring a powder-coated exterior finish and a porcelain-coated steel interior. It has two cast-iron cooking grates, one of which doubles as a removable warming rack. Their combined cooking surface area is 447 square inches, enough for 27 burgers in one cycle which is sufficient for a small party.
It can maintain a temperature range between 200 to 700˚F which enables versatile utility. Besides smoking, it can facilitate low and slow roasting and high-temperature grilling or searing. It can even be converted into an oven by accessorizing with its compatibleChar-Griller's smoking stone which covers and insulates the cooking chamber (sold separately).
Dual adjustable indexed dampers at the top and the bottomregulate airflow, making it easy to control heat levels which are monitored via abuilt-in stainless temperature gauge. The insulated design allows retention of heat, enhanced fuel efficiency, and reduction of charcoal consumption.
It comes with convenient foldingworkstations on the sides which are retractable when not in use for compact storage. There is an abundance of storage options including BBQ tool storage hooks and a bottom storage shelf. An Easy Dump ash pan makes for stress-free and fast clean-up after smoking or grilling.
The Akorn Kamado comes with two large 8-inchfront wheelsand locking rear casters which make it easy to move.
The Best Offset Smoker for Beginners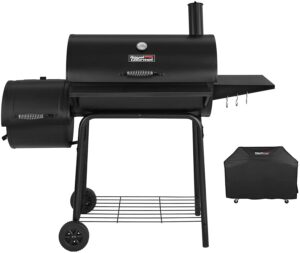 Features
Total cooking space: 811 sq.in
Fuel source: Charcoal
Dimensions: 48.8" H X 53.4" W X27.9" D
This is a versatile charcoal smoker with an affordable price tag that can save a lot of cooking time if used optimally. It has 811 square inches of cooking space, spread over porcelain-enameled steel wire cooking grates, a chrome-plated warming rack, and an offset smoker. It allows you to prepare multiple meals at different cooking stages. You can grill, smoke, and keep already prepared food warm at the same time.
The offset smoker with 184 square inches of cooking surface gets optimal circulation of heat and smoke to thoroughly baste your food while on the grill. All of the smoky flavor is retained in the system. Porcelain-enameled steel on the cooking grate ensures no juices are lost and because there are two, you can add charcoal as you continue cooking. The warming rack can facilitate quick defrosting for your next meal.
The charcoal pan which can hold up to 4.4 pounds of coal is adjustable to two levels which increases the precision of heat control. You can raise or lower the charcoal level to manipulate the distance between the fire and the food. The grill's air vent stokes the fire instantly and can be slid away to increase airflow if needed. The charcoal access door is also used as an additional vent to control the heat. A lid-mounted thermometer gauge will help in constant monitoring of the temperature in the cooking chamber.
The smokers' easily opened side door also allows convenient addition of charcoal and removal of ashes. The charcoal pan even comes off, making the removal and disposal of ashes easy and efficient.
It has sufficient storage space for all the gear you will use while preparing food; a bottom shelf with a 20-pound holding capacity, front and side tables that can be used as workspaces or to place ingredients and tools. There are also three s-hooks for hanging more grilling tools.
The grill's cover protects it from environmental hazards like water exposure, therefore battling corrosion and extending its life. The cover is included in the package. It has cool-touch handles that are safe to grip even when the smoker is operational. It comes with two wheels and two stands which make it easy to transport and set up firmly in your backyard, garden, or any other place.
The Best Gas Smoker for Beginners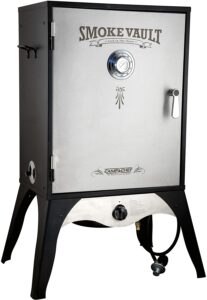 Features
Total cooking space: 903 sq.in
Fuel source: Gas
Dimensions: 30" H X 24" W X 16" D
We opted for this gas-powered smoker because its power source can easily be converted from propane to the more economical natural gas.This is easily accomplished with the help of a natural gas conversion kit when you don't plan on movingthe unit around. This conversion will also save you several trips to the gas station to refill your propane tank.
The wood chip tray is forged out of heavy-duty steel which has excellent heat retention capability, translating to better smoke quality and a higher overall temperature. The temperature gauge at the front keeps you abreast of the conditions inside the cooking chamber. You can boost your confidence by placing a thermometer on the food itself inside the smoker. Consult our review of the best smoker thermometers to learn what you need to know and to get the best deal in the current market.
This smoker has three modifiable damper valves to give better control over the heat in the cooking area despite the prevailing conditions.The vault design ensures it comes to your desired temperature and maintains consistency, allowing you to use the smoker as an oven which opens up baking options on top of smoking.Don't forget you can use the smoker for pies and pizza.
It comes with two adjustable cooking racks and one adjustable jerky rack. The 903 square inches of cooking space can fit up to six slabs of ribs which is impressive relative to its small footprint. The removable racks also make cleaning and maintenance easy.It was constructed for durability with a large percentage of coated stainless-steel input.
The Best Electric Smoker for Beginners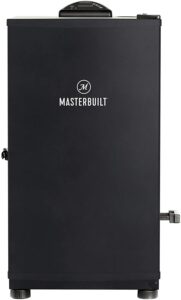 Features
Total cooking space: 711 sq.in
Fuel source: Corded Electricity
Dimensions: 33.27" H X 20.47" W X 19.88" D
This smoker comes with four chrome-coated cooking racks providing a total cooking area of 711 square inches which can accommodate two turkeys, four pork butts, four racks of ribs, or six chickens.
A digital panel controls turning it on and off as well as the cooking temperature and time. The heat is kept consistent via thermostat temperature control, guaranteeing it will never exceed the set temperature for even, continuous smoking. The fully insulated body helps in retaining this heat, ensuring none of it escapes.
Masterbuilt's patented side woodchip loading system allows you to add wood chips and experiment with different flavors without opening the door and losing the heat. This hastens your mastery of the flavors as a beginner. They included a water bowl to add moisture and flavor and an air damper for smoke control. A woodchip tray collects ash at the bottom for easy removal.
The Best Pellet Smoker for Beginners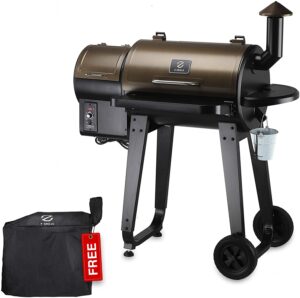 Features
Total cooking space: 459 sq.in
Fuel source: Electric powered, wood pellets
Dimensions: 49" H X 45" W X 28" D
It is compact yet it packs a combined cooking space of 459 square inches which is a sufficient grilling area for couples and small families. The space can accommodate three chickens, four rib racks, and 18 burgers. The smoker will leave a small footprint in your garage or on the patio and is easy to store. The foldable shelf provides a handy worktop that is retractable when you are not using it to maintain the compact profile. It has rugged wheels so you can move it around over sand, mud, or grass without breaking a sweat.
It comes with a PID controller which maintains an accurate and consistent temperature throughout your cooking. This is aided by the 15-pound capacity wood pellet hopper which eliminates the need to keep refilling pellets during the cooking process.
Itsdesign ensures there is complete combustion of the pellets with minimal waste as the enhanced airflow triggers maximum heat distribution in the burn box. It is, therefore, easier to clean than the charcoal smokers.
Best Smoker for Beginners Buyers' Guide
Always start by considering the specific needs that the smoker will address, examine the features carefully and remember your personal preferences. There is a wide array of smoker designs and sizes to select from and these differences will determine which one is best for your specific needs.
TheType of Fuel
This influences the amount of cleanup you will need to do afterward; coal produces the most ash, followed by wood pellets. Gas-powered and electric smokers don't have much to clean after a cooking cycle although they also burn wood chips that have to be cleared. Your personal preference and the type of fuel you can use in your setting also influence your choice of smoker.
Ease of Use and Maintenance
The easier the smoker is to use, the faster a rookie learns to smoke with it, and the better the quality of food that will be served from it. Start with basic designs to make the learning process easy.
Capacity
The higher the capacity, the more people can be served by one cooking cycle. While this is great, you won't always need all that real estate to cook and it comes with bulk and volume. Go for a reasonably sized smoker which caters to the number of people you will serve most often.
Heat and Duration
Smoking requires time because the food is not cooking over direct heat. Cold smoking takes even longer and can be going for up to 48 hours. Your smoker should have the capacity to retain heat for the anticipated required period. The longer it lasts; the more versatility it affords you.
Durability and Warranty
The longer your smoker serves you the more value you get for your investment. Look for smokers that have been designed to weather the conditions from how they are constructed to the kind of material that was used and how it has been enforced.
Warranty is an indicator of the manufacturer's confidence in their product. Don't feel like you are being too fussy by going through the warranty details. A smoker is a substantial investment and even steak knives have warranties! You want to establish what is covered and ensure you don't do anything that may void the warranty.
Affordability
It is common for novice smokers to go for budget cookers as they perfect their skills before making a huge investmentin a superior unit. Unfortunately, it is hard to produce quality food with a low-budget smoker and this can be a permanent turn-off. Splurging on a premium unit that's features are not going to be optimized is also not a good idea. You will hardly get value for your investment. Moderation is recommended for a start; capitalize on features and benefits you can enjoy instantly like durability and ease of use.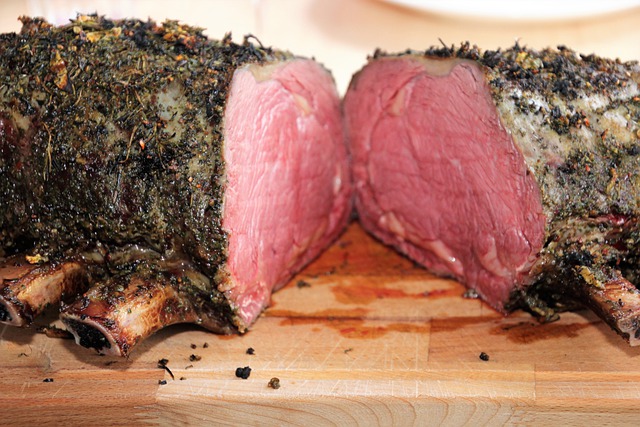 FAQ: What are the different types of smokers?
Understanding how different smokers work puts you in a better position to decide onthe kind that will work for you. The main discerning factors are fuel source and design which in turn influence how they will be used.
Charcoal Smokers
Charcoal is a great source of fuel because it is a hardwood on its own and will provide that smoky flavor without having to rely on wood. The smoker also doesn't need to be powered, meaning it can be used anywhere from your backyard to tailgating, to a campsite, or your favorite fishing spot.
Controlling the temperature and maintaining it is the hard bit that will turn most newbies away from a charcoal smoker. This requires a level of expertise that takes time to master. They are also harder to set up, light, and clean than other fuel sources. It requires patience which may not be your strength. You need to decide if the authentic smoky flavor is worth the hassle.
Vertical Charcoal Smokers
These are loaded with coals (and wood) at the bottom to heat the food above. They have a small footprint for the quantity of food that they prepare in a single cycle in comparison to offset smokers. They are however limited to smoking and it is hard to execute other cooking techniques on them.
They resemble the regular grill, with a burning chamber on the side where your fuel and wood go. Air carries the heat and smoke through the cooking area and out of a chimney on the opposite end. Some can be used as a smoker grill combo because they have provisions for loading coal directly under the cooking area.
Wood Pellet Smokers
A pellet smoker burns food-grade hardwood pellets for fuel which is electrically ignited in a burn chamber, producing heat and smoke. The heat in the cooking chamber is electronically controlled by manipulating the airflow and fuel injection.
The precision heat control allows these smokers to also function as ovens and grills, making them more versatile than other cookers. Because their fuel doubles as the source of smoke, fewer supplies are needed to keep the smoker going, meaning less waste than charcoal and an easier clean-up job. They also allow you to customize the flavors using different blends of pellets.
They are excellent smokers for beginners because you don't need to keep monitoring them once you program your desired temperature and cooking duration. They are self-regulating and will signal you when the food is ready.
The versatility however makes them a bit pricey which may bust the budget for some beginners. They also need to be plugged into a source of electricity which could limit their outdoor cooking use.
Gas Smokers
As the name suggests, they are gas-powered and their burners are fueled from a propane tank. Your standard propane smoker will have a vertical cabinet design with food racks that can be fitted above the burners. The smoke flavor is derived from soaked hardwood chips or pellets which are added at the bottom, ensuring they are smoldered by the direct heat.
They are easier to set up and use and overall,more affordable than a pellet smoker. They produce clean heat, making them the most popular choice for barbeque restaurants. The cabinet design offers more cooking space and temperature control is easy.
The need to have a propane tank on standby may pose a logistical problem, especially when you need to be mobile. A propane smoker can't be used for grilling because of its relatively lower maximum heat capacity and its design which places the food racks far from the heat source.
Electric Smokers
Their design resembles the cabinet-style gas smokers, but they are powered exclusively by electricity. The electricity heats wood below the food just like the gas smokers and the resulting heat and smoke bastes the food.
They also have accurate temperature control and are easy to set up and maintain as explained in our guide to using an electric smoker. Their waste is minimal which makes them easy to clean as well. They need to be plugged into an electric source, however, which limits their portability. These are also designed exclusively for smoking.
Kamado Smokers
These grills are excellent for smoking because they are proficient in heat retention. They don't have the air gaps that regular charcoal grills have and their bodies are insulated. Their lids are more sealable than other types of grills which ensures no heat or smoke is lost prematurely. They are capable of attaining high temperatures and can be used for grilling and searing as well.
They however tend to be heavyset and a bit pricey which may discourage beginners from investing in them.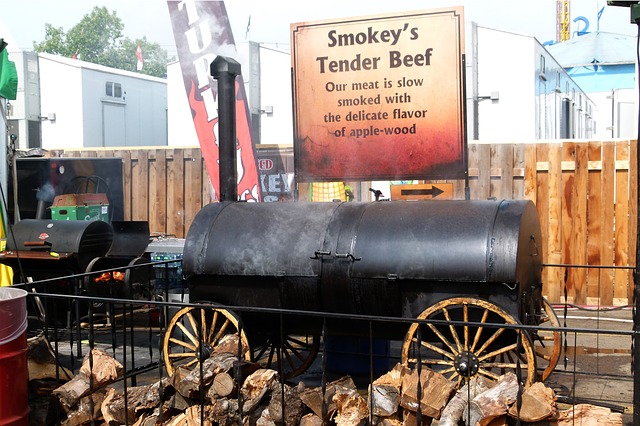 The best smoker for beginners should be easy to use so they can optimize their function, be durable, and be capable of producing quality food so that they can master the skill. These qualities manifest differently for different people if you factor in the environment and personal preferences.