Best Fish Fillet Knife of 2021 (Review and Buying Guide)
Greg
You cook fish often, and now you're looking for a fish fillet knife that will up your kitchen game. However, a simple search online for "fillet knife" brings up thousands of search results.
The amount of choice can be overwhelming, and you may be wondering which one is right for you. Even more challenging is the fact that most of these fillet knives have similar characteristics.
Ideally, you want a multifunctional fish fillet knife that will be efficient in a multitude of areas, acting as a fillet knife, skinning knife, and deboning knife all in one. This article will review some of the best fillet knives on Amazon and provide you with guidelines for picking the right fish fillet knife.
7 Best Fish Fillet Knives
Below are reviews of the 7 best fish fillet knives on Amazon.
1. Best Overall: KastKing Fillet Knife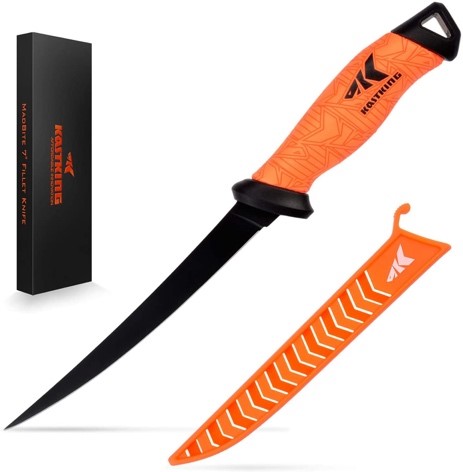 Product Features:
Blade length: 9 inches
Blade material: Stainless Steel
Handle material: Polymer
The KastKing 9" strong fillet knife is the top pick for the best fish fillet knives. It is intricately designed and built for professional-level performance.
The 9-inch blade is quite strong, thick, and stiff. It can handle big fish like tuna and salmon, or tough lunch chunks of bigger fish meat. It can be used for various meat processing functions including boning, filleting, and slicing. It can also be used for cutting bait, trimming meat, or steaking large game fish.
The razor-sharp blade is made from premium-quality German stainless steel which is corrosion and rust-resistant whether you're using it with freshwater or saltwater fish. Along with being an impressively sharp knife, this blade has an elegant black finish.
Its handle is made of non-slip super polymer that offers a comfortable grip. The manufacturer also provides a protective, lightweight, and durable sheath. The sheath has open slots that allow water to drain easily to keep the knife dry and sharp.
This knife is packaged in a portable black box. The KastKing fillet knife is available in four other blade lengths including 9″, 7″, 6″, and 5″.
Pros
Strong, sturdy, and stiff
Corrosion-resistant
Can be used with large game fish
Multifunctional
Non-slip grip
Comes with a protective sheath
Affordable
Cons
2. Best Fish Fillet Knife Set: Cuda 6-Piece Fish Fillet Knife Set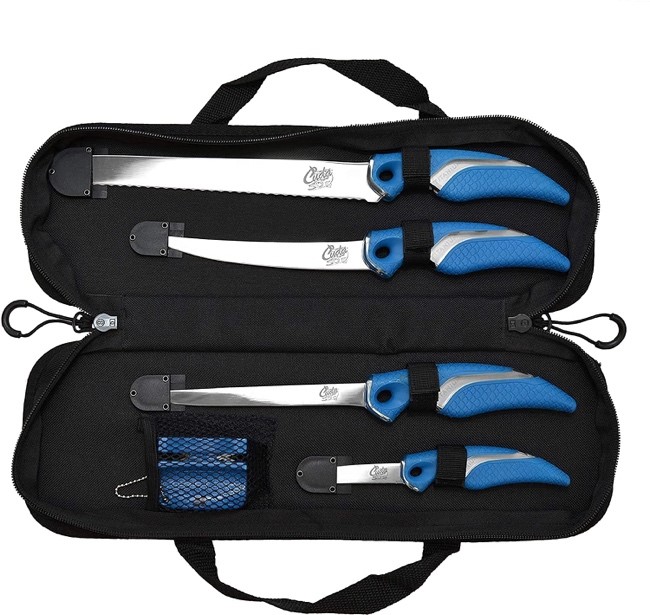 The Cuda 6-Piece Fish Fillet Knife Set constitutes of the following:
5″ bait knife
6″ curved boning knife
6″ fillet knife
9″ chunk knife
Portable knife sharpener
Fishing knife case
The 6″ fillet knife has the following specifications:
Blade length: 6 inches
Blade material: German titanium-bonded stainless steel
Handle material: Rubber and titanium
All the knives in this set are made with German 4116 titanium-bonded stainless steel that enables them to stay super sharp and rust and corrosion-resistant. They can withstand both freshwater and saltwater fish, making this a great multipurpose fish knife.
Each is fitted with a unique non-slip Cuda pattern along the handles for optimal grip. The handles also have a durable full-tang construction that ensures the knives stay in one piece for a long time.
The two-in-one sharpener has a carbide side for heavy-duty sharpening and a ceramic side for fine-tuning blade edges.
The heavy-duty case is designed to offer convenience. It has carrying handles, zip, Velcro straps, and tip protectors for the knives, knife pockets, and sharpener pockets. The boning knife can also be used as a filleting knife.
Pros
Convenient
Affordable
Durable construction
Non-slip handle
Giftable
Cons
Should be properly maintained to prevent rusting
3. Best Multipurpose Fish Fillet Knife: Huntsman Outdoors Fillet Knife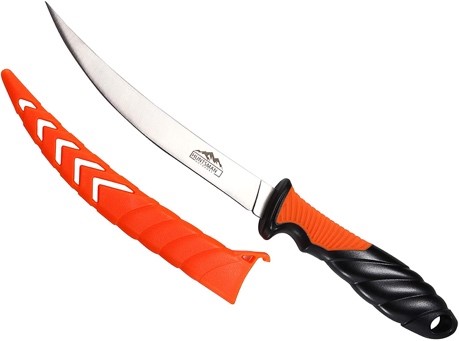 Product Features:
Blade length: 6.25 inches
Blade material: Stainless Steel
Handle material: Rubber and plastic
This is a versatile and high-performing fillet knife. Not only can it be used for filleting fish, but it can also be used for boning meat and deer skinning.
Its 6-inch blade is made of the highest quality 3cr13 stainless steel It is corrosion-resistant, sharpens easily, and retains its edge for a long time.
It is curved at the end to make it suitable as a boning knife or fishing knife. The blade is also flexible for maneuverability when filleting. The handle is made of plastic and rubber for a non-slip grip.
It comes with a lockable sheath, which helps to protect the knife's edge and for easy portability with your fishing or hunting gear. The sheath also allows you to conveniently store the knife in your kitchen drawer safely. The manufacturer offers a 100% satisfaction guarantee and a one-year replacement warranty.
Pros
Versatile
Excellent performance
Super sharp out of box
Economic slip-resistant grip
Comes with a lockable sheath
30-day money-back guarantee
One-year replacement warranty
Cons
4. Rhinoreto Fish Fillet Knife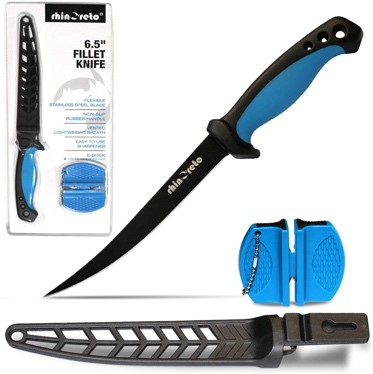 Product Features
Blade length: 6 inches
Blade material: Stainless Steel with a non-stick coating
Handle material: Rubber
The Rhinoreto Fish Fillet knife is specially designed for filleting fish. It can be used for boning, skinning, and filleting freshwater as well as saltwater fish. Due to its medium-sized blade, it is best suited for use with small fish or medium size fish.
The stainless steel blade is finished with a non-stick coating, helping the meat to slide off easily when being cut. The blade is also flexible and is curved at the front for performance efficiency.
Its handle is made of rubber for a non-slip grip. It's also designed to be used by both right and left-handed people, as a bonus!
This fillet knife comes with a vented, lightweight sheath that offers knife protection whether you are storing it at home or while traveling. It also comes with an easy-to-use, double-sided ceramic sharpener.
Pros
Easy-to-hold
Easy to clean
Versatile
Giftable
High-quality build
Comes with a sheath and a sharpener
Available in two other sizes – 6.5 and 8 inches.
Cons
5. PAUDIN Boning Knife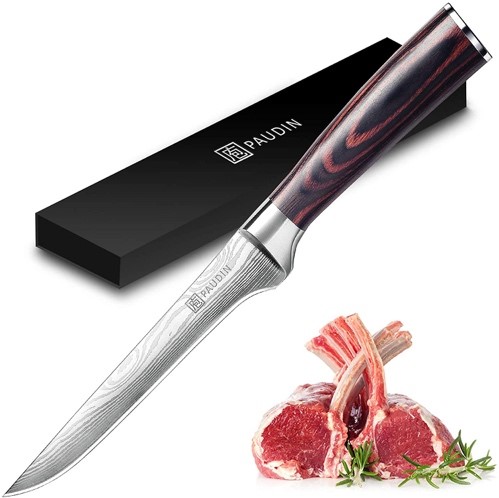 Product Features
Blade length: 6 inches
Blade material: Stainless Steel
Handle material: Pakkawood
This boning knife is designed as multifunctional kitchen cutlery. It works well as a fillet knife for fish, poultry, and meat. It can be efficiently used for deboning, filleting, skinning, trimming, or butterflying.
The blade is made with premium quality stainless steel to enhance its rust resistance and durability. The top of the blade has a waved pattern finish. Please note that this is not a real Damascus finish, but it significantly improves the aesthetics of the knife.
The cutting edge is razor-sharp and is hand horned at 15 degrees to offer minimal slicing resistance. The handle is made of pakkawood that offers a soft, comfortable, and ergonomic hold.
The manufacturer offers a 100% satisfaction guarantee or a money-back policy against manufacturing defects.
Pros
Ultra-sharp
Multifunctional
Affordable
Nitrogen-cooled blade for durability
Classic Japanese handle design
Ergonomic handle
Cons
Some knives need to be sharpened before first-time use
6. Bubba Tapered Flex Fillet Fishing Knife
Product Features
Blade length: 6 inches
Blade material: High carbon stainless steel with titanium nitride non-stick coating
Handle material: Rubber
The Bubba Tapered Flex Fillet Fishing Knife is a specialty fish fillet knife. However, it can double up as a meat carver as the 2mm blade offers precision cutting.
This bubba blade is designed to be reliable, durable, and convenient to use. It cuts precisely and can be used to cut out the fish bone with ease. It is also stiff enough to slice through heavy meat and bones of fish. This is a great knife to take on the road if you're fishing, as it can be used with both saltwater and freshwater fish.
The blade is made of stainless steel and coated with non-stick Titanium Nitride. It is razor-sharp and, with an extra-sharp tip that makes it easy to cut through even the toughest scales. The handle has the signature Bubba Flex textured design for a non-slip grip.
It comes with a sheath and a belt loop for a close, hands-free carry. This knife is also available in 9″ blade length.
Pros
Non-slip grip
Superior quality build
Factory sharpened to a razor-sharp finish
Smooth and clean cuts
Rust and corrosion resistance
Balance and comfortable-to-hold handle
Easy to carry
Cons
7. Calamus Fishing Fillet Knife
Product Features
Blade length: 7 inches
Blade material: Stainless Steel
Handle material: Rubber
The Calamus Fishing Fillet Knife Is available in four different lengths and shapes including a stiff 5" bait knife, a 7" & 9" traditional/flexible fillet knife, and a tough 9" steaking/boning knife.
The 7" traditional fillet knife is made of G4116 German stainless steel with a blue corrosion-resistant finish. The knife maintains its edge for longer even with regular use with saltwater fish.
It steaks and fillets fish quickly and efficiently. It is super flexible allowing it to follow the natural contours of the fish fillet when cutting. It is ideal for use with delicate fish, or delicate cuts of meat such as chicken.
The handles have a non-slip golf-style rubber for safe, comfortable, and non-slip handling in both wet and dry conditions. The handles are about 40% lighter than those of similar products on the market.
It comes with a protective nylon sheath that is durable and lightweight. The shade is also well ventilated to allow and water to drain away, therefore, preventing corrosion.
Pros
Unique non-slip golf-style handles
High-quality build
Razor sharp
Retains edge for a long time
Available in different sizes and shapes
Can also be used as a hunting knife, kitchen knife, or chef knife
Cons
Some knives are delivered blunt
The Ultimate Buying Guide for Choosing a Good Fish Fillet Knife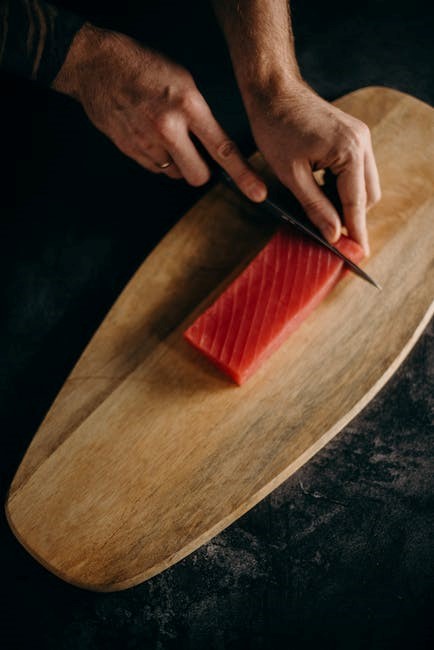 Below are several factors to consider when choosing a fish fillet knife.
1. Blade Material
Fish fillet knives are made of stainless steel, carbon steel, or high carbon steel. You may also come across some that are made of ceramic. When deciding which type of blade material to go with, consider that different materials have different characteristics, therefore, different pros and cons.
Ceramic is easy to sharpen and retains sharpness for longer, but it is quite fragile. Also, a good quality ceramic blade can be quite expensive.
Stainless steel blades are durable and easy to sharpen. However, the blades tend to dull after a few uses, and you will need to sharpen the knife regularly. In some cases, you may have to sharpen several times during a single use. These types of knives are heavy and sturdy and can easily cut through big fish. Typically, stainless steel fish fillet knives are quite affordable.
Carbon steel and high carbon steel fish knives are slightly more expensive than stainless steel. Carbon steel blades are easy to sharpen and retain sharpness for a longer time. However, this material is more prone to corrosion, staining, and rusting. Some manufacturers reinforce the blade's durability and rust resistance during the forging process by layering carbon steel with stainless steel.
2. Blade Thickness and Flexibility
Ideally, your fish fillet knife should be flexible to be able to make clean, high-precision cuts. Otherwise, you might end up snapping the bones and having some pieces lost in the fillet. The best fillet knives have a 1.5- 3.5 mm thickness.
Blade flexibility is a critical consideration to make when choosing a fillet knife. The knife should be flexible enough without breaking or feeling too flimsy. This feature enables you to maneuver the meat seamlessly.
3. Blade Length
Filleting knives are available in a range of blade lengths that fall into three main categories: short blades, medium size blades, and long blades. The length of the blade affects its flexibility and determines the type of fish that it is best suited for.
Short Blades (4-6″)
They offer great handling control and maneuverability. They are best suited for use with smaller fish species such as sunfish, panfish, mackerel, and crappies, among others.
Medium-sized Blades (7-8″)
If well designed and constructed, medium size blades also offer adequate handling control and flexibility. They are best suited for larger fish such as trout, walleyes, salmon, and certain species of pike.
Long Blades (8-9.5″)
These blades are the best option for filleting large fish such as large salmon, tuna, codfish, and catfish, among others. However, long fish fillet knives are more cumbersome to transport.
4. Blade Sharpness
Razor-sharp fish fillet knives provide quick, easy, and precise cuts. The knife should also retain sharpness for longer. Blunt blades make it harder for you to fillet, skin, or debone fish. If you're scared that you may cut yourself with a super sharp blade, wear filleting gloves when using the knife.
5. Blade Angle
Although you might have an adequately sharpened blade, if it doesn't have a sharp edge, you will not be able to penetrate the skin of the fish. The filleting knife's edge should be at a 12-15-degree angle. The smaller the angle, the sharper the knife.
6. Handle Material
The fish filleting process can be messy. Therefore, you want a fish fillet knife whose handle is sturdy, balanced, comfortable, and has a non-slip grip. Most fish fillet knife handles are made from wood, plastic, rubber, or metal.
Although a wooden handle offers a classic finish and a comfortable feel on the hands, it becomes slippery especially when handling it with wet hands. Also, wood tends to soak up the smell of fish over time and the finish becomes pale.
Plastic is less slippery than wood but might be too slippery for a firm grip. Unlike wood, it does not soak up smells and or odor. In addition, there is a wide range of plastic-colored handles to choose from according to your preference or to suit your kitchen decor.
Rubber offers a firm grip even in extremely wet conditions, but it tends to retain odor. Finally, metallic handles have a firm grip though not as firm as rubber. They do not retain odor and are easy to clean.
7. Type of Fish Fillet Knife
The following are the main types of fish filleting knives:
Japanese fish fillet knives: They are long, have an even width along the length of the blade, with a 45% curve. They are quite sharp but not flexible. Mostly, they are single-beveled.
Scandinavian fish fillet knives: They have a flexible blade that is mildly curved and pointed at the end. Most Scandinavian fish fillet knives are double-beveled.
Electric fish fillet knives: Unlike the traditional filleting knife that you operate manually, an electric fish fillet knife needs to be connected to a power source. Though more efficient, electric fillet knives are heavier and less precise. The manual ones are easier to maneuver.
8. Sheath
The best filleting knives come with a sheath. It makes it easy to safely store or transport your filleting knife. Sheaths come in different materials including leather, plastic, and nylon. With that said, if you come across a good filleting knife that does not come with a sheath, buy it, and then order for a sheath separately.
9. Price
Fish fillet knives retail at $10-$50. Determine your budget and identify reputable fish fillet knives that are within your budget. If the manufacturer offers a money-back guarantee or a lifetime warranty, then it is a good indicator the knife is of good quality.
Conclusion
Whether you are a chef, a fishing enthusiast, or a person who loves to incorporate freshly caught fish in their diet, finding the right fish fillet knife is critical. Determine the type of fish you will be using the knife on and then decide on the right blade material, length, thickness, and other features to go for. It's sure to change your kitchen game!
Best Fish Fillet Knife of 2021 Comparison