Top 5 Tojiro Knives Review – Fantastic Knives with Minimal Spending
Greg
Let's face it. The high price tag prevents a multitude of chefs from investing in a Japanese knife or a set of them.
Whether you're a culinary student looking to save up on your college kitchen essentials or an aspiring cook still in the bud, you must have been terrified when you first laid eyes on the prices.
The good news is, there's a pocket-friendly alternative that can help you uncover the secrets of Japanese cuisines; Tojiro knives. They score points from a myriad of professional chefs across the globe as they deliver what you need in a top-notch knife.
With impressive edge retention, top-grade materials, and decent sharpness, it's hard to rival what this brand has to offer at its price range. With that being said, let's explore the top 5 Tojiro knives that deliver quality and affordability rolled into one. Read on!
1. Two-piece Tojiro DP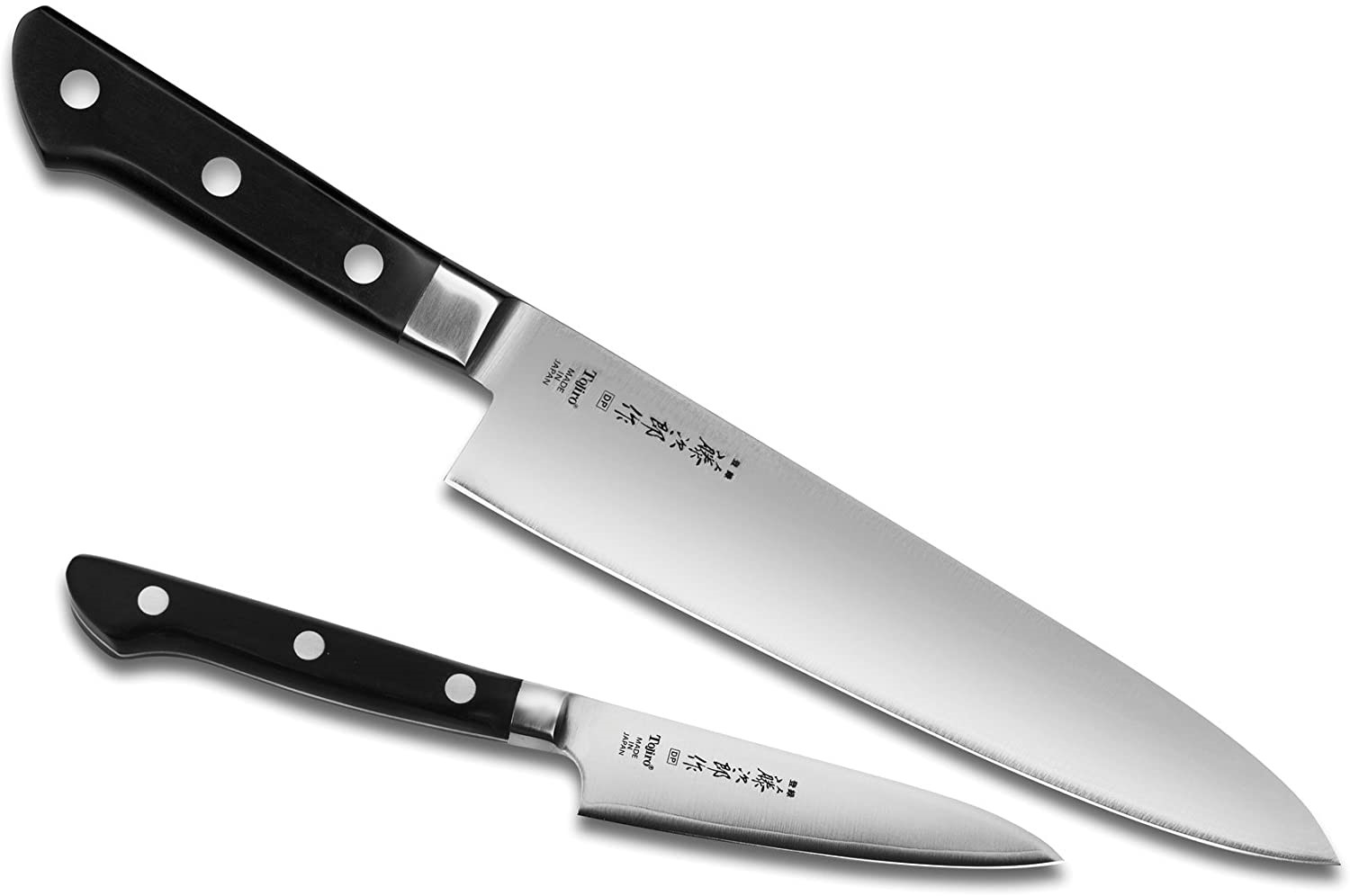 Are you a firm believer in the adage, 'the more, the merrier?' Then the 2-piece Tojiro DP knife set is right up your alley.
The multipurpose Tojiro knives feature a VG10 core tucked away between 2 layers of sturdy stainless steel alloy, forming a three-layer clad construction.
Delivering the authentic Japanese experience you yearn for, these blades rank at 60 degrees on the Rockwell Hardness scale with a 12-degree edge angle. These numbers are hard to beat, even for renowned knife brands.
In place of the popular Damascus pattern, the 2-piece Tojiro DP knife set uses the Da Vinci approach that emphasizes simplicity being the ultimate sophistication. The three-riveted, durable Micarta handles boast a full tang design, so losing balance during cutting becomes the least of your worries.
Courtesy of the closed bolster coupled with the hand-crafted finish, sharpening these Tojiro knives is a walk in the park. Honing the full blade with a top-notch sharpener also infuses more balance while cutting.
Pros
Made of rust-resistant, rigid stainless steel alloy
Full tang design for enhanced balance and control
Backed by a lifetime warranty
Durable VG10 steel core
Three-layer clad construction
Easy to sharpen
Durable Micarta handles with 3 rivet
Cons
Awkward to hold and maneuver for people with small hands
Bends slightly after a while
2. Tojiro DP Gyutou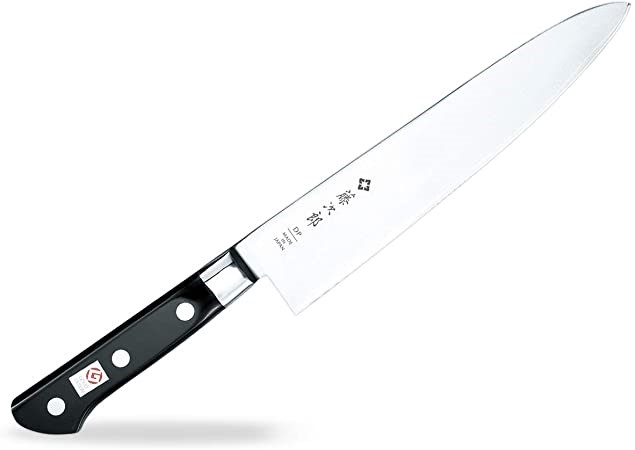 Are you concerned that buying a chef's knife won't deliver the authentic Japanese experience you crave?
Then consider purchasing its Asian counterpart, the 8.2-inch Tojiro DP Gyutou. At an affordable price, the efficiency, durability, and sharpness that this knife delivers are unmatched.
Boasting a double-level blade, it's impressively sharp right out of the box, as expected from Japanese knives. Coupled with a grind of 9 to 12 degrees, you've hit the jackpot in the realm of sharpness. The 8.2-inch Tojiro DP Gyutou can slice through anything like butter.
What sets this tool apart from the pack is that its European double-beveled design allows for use in either hand.
Aside from remarkable sharpness, the Tojiro DP Gyutou has a 60-degree score on the Rockwell Hardness scale which means it can hold an edge for a long duration. This lowers the honing frequency, giving you more time between your sharpening sessions.
In playing to Eastern and Western crowds alike, the knife has a few compromises. Firstly, the authentically Japanese tip is angled to restrict particular types of slicing and chopping motions. This makes it an uphill task to get the blade high above the chopping board before it gets in your way.
Despite using the tip as a pivot, your knife is susceptible to chipping or breaking. Secondly, the blade's hardness implies that you're better off handing it to an expert for maintenance. The honing calls for somewhat different tools than those you'd use for western chef's knives.
Pros
It gives you the best of the Eastern and Western blade worlds
Razor-sharp blade that holds an edge
Sturdy construction that makes cutting tasks a breeze
Comfortable handle
Perfect balance
Great quality at an affordable price
Cons
Prone to rust if it's not air-dried
3. Tojiro DP Damascus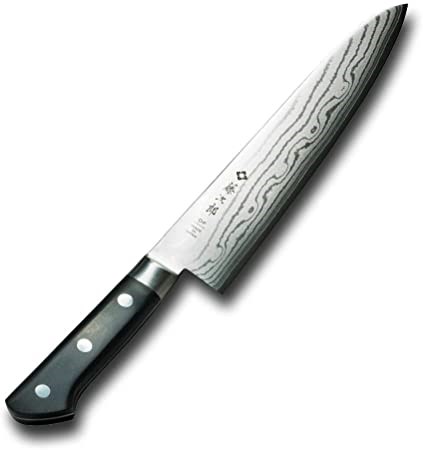 Measuring 13.39 X 1.77 X 0.71 inches, the 8.25-inch Tojiro DP Damascus is aesthetically pleasing and functional.
The 60-degree Rockwell Hardness and bolster collar means the knife can hold an edge and is easier to sharpen fully compared to rigid steel. For enhanced balance and comfort, the Micarta handle is triple-riveted.
Thirty-seven forged layers of high and low carbon stainless steel folded over the thick VG10 top-grade cobalt alloy steel create the Damascus pattern on each side of the blade. Constructed with versatility in mind, the Tojiro DP Damascus delivers unmatched efficiency in meal preparation.
Pros
Limited lifetime warranty included
Designed for versatile use
Razor-sharp edge that is sharpened and toned by skilled craftsmen in Japan
It has a bolster collar that makes the knife easy to sharpen
Beautiful and functional design
Constructed from sturdy and durable steel
Triple-riveted Micarta handle for unrivaled comfort and balance
Cons
Heavier than other Tojiro knives
4. Tojiro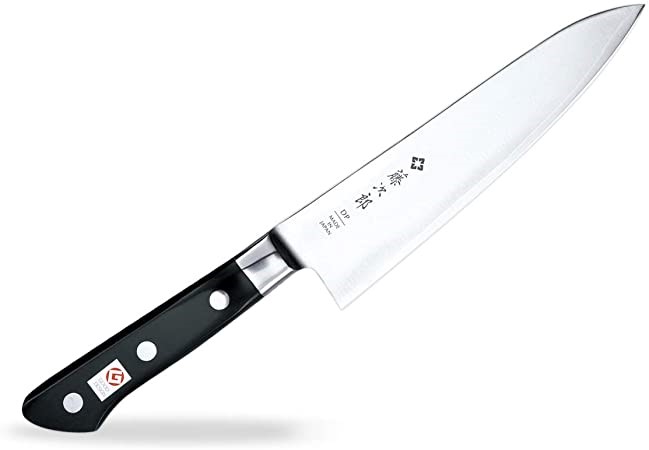 As a multipurpose utility knife that's suitable for various dicing, chopping, and slicing tasks around the kitchen, the F-807 gives you the best bang for your buck.
Like other Tojiro knives, the blade features a VG10 cobalt alloy steel core layered in stainless steel for impressive sturdiness.
It's, therefore, no surprise that the F-807 Tojiro ranks at 60 degrees on the Rockwell Hardness scale. For durability, the blade's outer layer is made of stain-resistant steel, making maintenance a walk in the park.
Courtesy of the 'honwarikomi' method used to make this kitchen utility knife, the blade is razor-sharp right out of the box and can hold an edge for a while. Featuring a full tang design, the handle is constructed from durable composite wood to guarantee impressive balance and comfort.
Pros
A jack of all trades and master of some
Well-balanced and comfortable handle
Excellent performance for the price
Sharp, durable blade constructed from premium materials
60-degree Rockwell Hardness
Made of stain-resistant steel for easy maintenance
Multipurpose
The blade retains sharpness for a while
Cons
Requires a unique sharpener (sold separately) to prevent dullness
5. F-502 Tojiro
Delivering elegance, affordability, and functionality rolled into one, the F-502 Tojiro is perfect for dicing, slicing, and mincing.
The three-ply clad construction has a VG10 core of super steel encased by two layers of rust-resistant and highly-rigid stainless steel for impressive sharpness and flexibility.
With a 60-degree Rockwell Hardness rating, the knife has an impressively sharp edge and a 9 to 12-degree blade angle.
For unmatched heft and balance, the Micarta handle is styled by a triple-riveted traditional method.
Micarta is a premium handle material that comprises synthetic linen and resin by extreme pressure and heat used to create a wooden-like grain, enhancing durability. By infusing traditional methods into new technology, the F-502 Tojiro knife delivers peak performance.
Pros
Sturdy and rust-resistant
Premium, triple-riveted Micarta handle for maximum comfort and balance
Razor-sharp edge
Remarkable flexibility
Multifunctional kitchen tool
Elegant design
Budget-friendly
Cons
Bulkier than other Tojiro knives
The blade may chip with vigorous use
Buyer's Guide: How to Choose the Best Tojiro Knives
To avoid frittering away money on a flimsy knife, we've rounded up a few factors to consider that will steer you on the right path.
Material
Higher quality Tojiro knives are made of high-carbon steel. Although they are sturdier and can retain their razor-sharp edge for a while, they are susceptible to chipping if poorly maintained or mishandled.
Regular sharpening and ideal maintenance are crucial for premium knives. For this reason, the pricier high-carbon steel knives are better suited for experts.
The more affordable entry-level Tojiro knives are made of stainless steel alloy that is easier to maintain, resistant to rust, and more durable.
On the flip side, they won't retain their sharpness for as long as the premium counterparts if used at the same frequency. Most home cooks don't need to worry about this as they don't use their knives nearly as much as professionals.
Price
If you're just getting your feet wet, you don't need to invest in an expensive set of Tojiro knives. Our top 5 options deliver the quality you need without setting you back hundreds of dollars.
A more affordable, serviceable, and decent option costs less than $200. Think about it like purchasing a car. If you're still learning how to drive, buying a Lamborghini is pointless.
Blade Style
Tojiro knives come in single-beveled and double-beveled blades. The single bevel options are typically the go-to for professional settings as they make detailed cuts.
The feel of a single-beveled knife is different, which means it takes a lot of practice to get used to. If you're not a professional, we recommend Western-style double-beveled blades that are easier to use.
Type of Handle
Tojiro knives come with a traditional Japanese or Western-style handle. The latter is grip form shaped, secured through the blade's tang with rivets, and heavier. Western handles are sturdier and best suited for brute force cutting tasks.
Traditional Japanese handles are lighter, cylindrical, and typically made of wood. Although they may feel awkward to use at first, they deliver more delicate control and touch once you get the hang of it. In the end, the handle you opt for depends on your preference.
Why the Best Tojiro Knives Are a Worthwhile Investment
For starters, they are affordable. The price for a premium knife from other brands can get you a set of 2 or 3 Tojiro knives. This makes the brand best suited for anyone on a budget, not looking to slap a big name on their kitchen counter.
Secondly, despite their attractive price point, you don't have to compromise on quality. Like high-end brands, they are sharp with a grind of up to 12 degrees and can hold an edge for a long period, making maintenance a breeze. With Tojiro knives, the frustration of using a dull knife is long gone.
Tojiro Knife Maintenance
Sharpening and washing kitchen knives correctly as per the manufacturer's instructions is the key to making them last. Tojiro recommends hand-washing your knives after every use with a soft sponge and warm water.
If you've been cutting acidic or salty foods, ensure you properly rinse the knife to prevent corrosion from forming. Avoid soaking your Tojiro knives in water as it's a corrosive agent. To maintain sharpness, hone the blade once or twice every month using a Japanese whetstone.
FAQ
Here are the answers to some of the most frequently asked questions.
1. How often should you sharpen Tojiro knives?
Ensure you sharpen the knife slightly before your first use and re-sharpen it at least once a week.
2. Are Tojiro knives dishwasher-safe?
No! Avoid washing knives in the dishwasher. It can fade the blade and damage the knife-edge as a result of exposure to powerful detergents and extreme heat. Hand-wash the knife with warm water and let it air dry to diminish the likelihood of rust.
3. At what angle should you sharpen Tojiro knives?
Constructed from rigid steel with sturdiness of at least 60 degrees on the Rockwell scale, the knives should be sharpened at a steep angle. Given that the typical cutting-edge is 30 degrees, a 15-degree angle is required to sharpen a Tojiro knife.
4. How do you remove rust from Tojiro knives?
To get rid of rust spots from your knives, you only require a sponge to scrub, white vinegar, and a tall glass. Start by filling up the glass with enough vinegar to fully immerse the blade. Secondly, keep the knife soaked in vinegar for up to 15 minutes. Lastly, remove the knife from the glass and use the sponge to scrub off the rust.
Closing Remarks
Tojiro knives give you the best value for your money. They are forged with a full tang, constructed from world-class materials, comfortable to use for hours, and have ultra-edges that guarantee unmatched efficiency. Order yours today!
Top 5 Tojiro Knives Comparison