The Best Chinese Cleaver for Preparing Meals – The Ultimate Guide
Greg
Most expert chefs will tell you that you only need three knives in your kitchen: bread, paring, and chef's knife.
However, including only these three kitchen knife types is an injustice to your kitchen. When it comes to versatile cooking tools, the Chinese cleaver is an indispensable inclusion in your kitchen. The model differs from a Western cleaver knife.
It's used for chopping, smashing, slicing, tenderizing, and moving ingredients from the cutting board to the cooking pan. It is the best cleaver for both expert and unskilled cooks and cooking enthusiasts because of its numerous sizes and uses.
You need to have one! However, before we review the best Chinese cleavers on the market right now, let's first understand what a Chinese cleaver knife is.
What is a Chinese Cleaver?
A Chinese cleaver, also called the Chinese chef knife, is an easy-to-use and versatile cutting tool. The phrase "cleaver" likely makes you picture a wide-bladed, heavier cleaver which you use to carry out heavy-duty chopping tasks or cutting through large bones. This is not the case with a Chinese cleaver.
A Chinese cleaver is designed with a slim and sharp edge. Its extraordinary speed and precision stand out in diverse chopping tasks. You can use the Chinese cleaver to mince garlic, cut boneless meat, and shred ginger. Also, you can use the blade's broad surface as a scoop for moving food.
Simply put, the Chinese cleaver is incredibly versatile, making it a must-have when preparing meals in a home or commercial kitchen. Besides, it's somewhat spontaneous to use once you get used to the sharp movements on each slice and cut of the knife.
What are the Benefits of a Chinese Cleaver?
Numerous advantages come with having a Chinese cleaver in your kitchen. That's why most expert chefs utilize this helpful kitchen utensil. Some of the benefits of the best Chinese cleaverare:
It creates effortless and accurate cuttings
Usually, a Chinese cleaver's blade is as slender as a chef's knife's blade. Nonetheless, cleavers are slightly heavier. The additional weight allows you to apply pressure, helping you complete most chopping tasks without a hassle.
It's versatile
A Chinese cleaver carries out nearly all chopping tasks in your kitchen, so you don't need to have a bunch of knives anymore. Also, it has a large blade that assists you in transferring all the cut ingredients to where you need them.
It's long-lasting, even with frequent use
A Chinese cleaver's blade is manufactured using strong and long-lasting materials. The cutting edge remains acuminated for a long time. If the cutting edge gets blunt, you can re-sharpen it with stone or honing steel.
Let's now review the five best Chinese cleavers on the market.
Review of the 5 Best Chinese Cleaver for Preparing Meals
1. Shun Classic 7-Inch VG-MAX Chinese Cleaver

Features
Versatile cutlery
Slender blade for accurate control
Ergonomic and water-resistant ebony pakka wood handle
7-inch Damascus-clad blade
VG-MAX steel cutting edge
If you're searching for high-quality cutlery to include in your kitchen arsenal, look no further than the Shun Classic Chinese Cleaver. It comes with numerous Damascus coating layers. Not only does it make this cleaver an eye-catcher, but it also gives it premium quality sharp edge retention.
Also, it stands the test of time. It comes with a D-shaped handle that offers a comfortable grip. It minimizes the effort used and allows you to regulate the movement of the blade with each cut.
The wood handle is fabricated using pakka wood, which is super-flexible, water-resistant, and can endure wear and tear when chopping through foods.
Also, this Chinese cleaver comes with a razor-sharp cutting blade that allows you to cut, mince, and chop through deboned meat and all vegetables in no time. As soon as you're through with the chopping tasks, scoop all your ingredients onto the broad surface to facilitate moving it to your cooking pan.
Pros
Stays acuminated for a long time.
Easy to handle and control
Ideal for right and left-handed people
Rust and wear-resistant
Can cut through meat and vegetables easily.
Cons
It requires frequent cleaning.
2. TUO Cutlery Damascus Steel Chinese Chef's Cleaver for Vegetables and Meat
Features
Pakka wood full-tang handle with potent bolster and finger guard
Available in diverse designs with beautiful finishes
High-carbon, stainless steel 7-inch blade
100% satisfaction guarantee
One-of-a-kind model
The TUO Damascus Steel Cutlery Chinese Cleaver is unique as it has an intricate design. Apart from the unmatched dragon-keel pattern that covers the blade's surface, this Chinese cleaver comes in various models to fit your style.
This cleaver has a pakka wood handle, a water-repellent wood compound, and resin that are more durable than its wooden counterparts.
The Chinese cleaver's handle has a gentle curve, and it's modeled with the user in mind because it offers an enhanced finger rest to carry out chopping tasks.
This cleaver is fabricated using numerous high carbon steel layers. This way, it stops corrosion efficiently after years of chopping, dicing, and mincing ingredients. This cleaver also comes with a 100% satisfaction guarantee, proving it's a high-quality product.
Pros
Handle provides a solid grip
You can carry out diverse cutting skills with this cleaver
Retains acumination for a long time
Can be used to cut veggies and debone meat
High-quality build
Cons
It's not dishwasher safe.
3. Zwilling J.A. Henckels 7-Inch Twin Signature Chinese Cleaver Knife

Features
Triple-riveted ergonomic polymer handle
Full-tang build
Acuminated laser-controlled cutting edge
Dishwasher safe
Durable stainless steel 7-inch blade
With an ergonomic full-tang build, the J.A. Zwilling Twin Signature Chinese Cleaver is durable. It comes with three large rivets embedded on the cleaver's handle to support its high-quality construction. It helps create a balanced weight distribution on the cleaver.
This Chinese cleaver's blade is fabricated using stainless steel with a high amount of carbon. It undergoes an ice-hardening procedure that makes it have a slim and acuminated edge. You can effectively cut through diverse types of bread, veggies, meats, and other foods.
Additionally, this Chinese cleaver weighs only ten ounces making it lightweight to facilitate easy maneuvering. Also, if you prefer a dishwasher-safe cleaver, this knife is indispensable for the committed culinary enthusiast who lacks time for handwashing.
Pros
Slender and lightweight cleaver
Cuts through deboned meat and vegetables smoothly
Comfortable handling for both large and small hands
Fast and easy to clean
Has excellent sharp edge retention
Potent and user-friendly
Cons
A very sharp blade that can cause injury if not careful.
4. SHI BA ZI ZUO Superior Class 7-Inch Stainless Steel Chinese Cleaver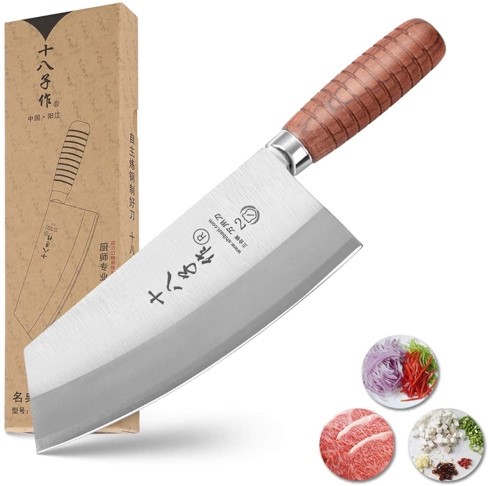 Features
Heavy-duty Chinese cleaver
Broad and potent premium quality stainless steel blade
Anti-stick layer
Dual bevel for accurate cuts
Well-modeled rosewood ergonomic handle
7-inch anti-stick blade
The SHI BA ZI ZUO Chinese Cleaver is an excellent option if you're searching for a smaller cleaver. You'll get a cleaver with a great design, premium quality materials, and optimum performance at a fair price.
The blade of this Chinese cleaver is manufactured from rust-resistant stainless steel with high carbon content. It's also durable and retains acumination longer. This blade's length is 7 inches and comes with an upward tip ideal for dicing, chopping, and mincing.
Also, it comes with an anti-slip layer on its edge. It stops the food from getting stuck on the blade. To extend the blade's acumination, the maker utilizes a one-of-a-kind damp sharpening method.
The cleaver's handle is fabricated from attractive rosewood with a broad, potent bolster and a finger guide. Therefore, you won't injure yourself while chopping using this Chinese cleaver.
Additionally, the full-tang handle facilitates grip and feels cozy, so your hand won't hurt even after extended use. You can use this Chinese cleaver for expert and home use.
Use it to chop meat, veggies, fish, fruits, and much more. The broad blade makes easy work of transferring your food to a bowl or cooking pan. What's more? You can also use this best Chinese cleaver to mash garlic!
Pros
Cuts all vegetable types well
Versatile as you can use it for chopping, slicing, and to collect food items
Cleaver's blade is long-lasting
Gives your kitchen an organic and genuine touch
Perfect for homes, outdoors, restaurants, and other places
The Chinese cleaver's handle offers an excellent grip
Cons
The handle is somewhat short
5. Winco Heavy Duty 8-Inch Chinese Cleaver

Features
Fabricated using stainless steel
Dishwasher safe
8-inch-long rust-resistant stainless steel blade
Heavy wooden notched handle
Attractive design
Although the Winco Heavy-Duty 8-Inch Chinese Cleaver is the most affordable option on this list, its convenience and quality are unmatched. Also, it's among the few dishwasher-safe knives, so you can carry out your cleanup tasks faster and with less hassle.
It comes with a shiny stainless steel blade that is 8 inches in length. It's hard and sharp and can chop through any food chunk and large ingredients such as watermelons, lettuce heads, and large meat chunks.
This cleaver comes with a serrated handle that guarantees a comfortable and secure grip. It is also hard and rust-resistant so you can use the cleaver without worries.
This cleaver doesn't bend thanks to the full-tang build. If you like an organic touch, you'll appreciate the cleaver's wooden handle, not only because of its genuine beauty but also for the easy grip it provides while chopping your veggies.
Pros
Affordable
Fit for light-duty poultry chopping
The handle is fixed well and cannot loosen
Highly durable
Easy to wash
Cons
Best Chinese Cleaver for Preparing Meals – Buying Guide
Before purchasing a Chinese cleaver that meets your requirements, here are a couple of factors that you need to consider:
Weight and Size
When purchasing online, this is the most challenging factor to consider. You have to feel comfortable utilizing the knife you buy, particularly if it's as sharp as a cleaver.
The best Chinese cleaver you buy should fit snugly in your hand and doesn't have to be so hefty that you cannot handle it for a long time.
Length of the Blade
A Chinese cleaver's blade length is based on your hand size and the foods you intend to use it with. Numerous blades have a length of between eight and ten inches. If you want a more versatile Chinese cleaver for cutting large ingredients quickly, purchase one with a long blade.
Additionally, a Chinese cleaver should have a 7-inch minimum blade length. If the blade is shorter than this, it won't be comfortable in your hands, particularly if you cut large chops of meat and large fruits, such as watermelons.
Blade Material
The material of the blade is another crucial factor to consider when purchasing a Chinese cleaver. When shopping, you'll most likely come across awe-inspiring options fabricated using carbon steel, stainless steel, or a combo of both.
The most commonly used metal when it comes to fabricating blades is stainless steel. Besides being inexpensive compared to carbon steel, it's durable, potent, and resists corrosion. Unfortunately, it does not stay sharp for long and will require maintenance to keep its edge.
Carbon steel is a more conventional metal as it stays sharp for a long time. Regrettably, it's predisposed to corrosion and leaves a somewhat metallic flavor in your food.
Many expert chefs utilize either premium quality stainless steel or a combo of carbon fiber and stainless steel.
The Material of the Handle
The cleaver's handle is an important component to pay attention to. First, it must feel comfortable. Some people feel better holding a metal handle, while others choose a wooden handle. The handle is not just about the esthetic of the model, but the feel in your hand.
The handle's design influences the cleaver's quality and control. A full-tang handle implies that the handle and blade are one connected construction. An incomplete tang comprises two or more parts, similar to a wooden handle mounted on a metallic blade.
The best Chinese cleavers shouldn't fall apart. A full-tang is one piece of metal. Therefore, it cannot fall apart. It's something that you should be keen on, but it's not the deciding factor over comfort and quality.
Ease of Maintenance
Unlike with other kitchen appliances, you have to be more dedicated when taking care of your Chinese cleaver to retain acumination and make effective cuts. These maintenance undertakings include wiping it down and sharpening the blade intermittently.
Hand washing your Chinese cleaver in lukewarm, soapy water after using it is an effective method of cleaning it. Nonetheless, if you live a hectic lifestyle that leaves you with less time to prepare and clean, choose a dishwasher-safe Chinese cleaver.
Also, check if the cleaver comes with excellent edge retention or needs to be sharpened regularly. If you want to create effective chops and cuts, acumination and hardness are the primary factors to consider. Besides, keeping the blade in a dedicated knife block will efficiently stop stains and corrosion.
The Thickness of the Blade
Although many meat Chinese cleavers come with blades with a minimum thickness of 8 mm (0.32 inches), cleavers for chopping veggies don't endure much force and can be thinner. Slender blades are lightweight, making them user-friendly, but a thinner blade becomes more inflexible. Usually, the cutting edge of Chinese cleavers has a thickness of between 0.07 and 0.32 inches.
Also, think about how frequently you'll be utilizing your Chinese cleaver and for what type of cutting. Do you cut veggies slender for recipes such as sushi or meals that'll be judged according to their appearance, or do you cut through solid potatoes and root veggies to prepare stew and soup?
Conclusion
The best Chinese cleaver is a multipurpose Chinese chef knife that stands out in diverse chopping situations. You can use it for chopping, slicing, mincing, and dicing nearly every type of ingredient from large meat chunks to delicate veggies.
Identifying the differences between all the product choices can be challenging since Chinese cleavers have a simple design and are no-frill, but our review should ease the stress of searching for your perfect cleaver.
We hope that it has been helpful and have fun shopping!
Best Chinese Cleaver Comparison