How to Sharpen a Pocket Knife Using a Sharpening Stone and 3 Alternative Methods
Greg
A knife is only good when it is sharp. It is difficult to make cuts with a dull knife. Besides, using a blunt or dull blade for tasks can cause injuries to your wrists and palms.
There are several ways to sharpen a pocket knife, depending on the tools you have available. However, the best method is using a sharpening stone. However, if you are outdoors with no access to a sharpening stone or any other knife sharpener, you can use a rock, sand, or another knife.
This article will provide you with the steps on how to sharpen a pocket knife with a stone. It will also discuss 3 alternative methods for sharpening your pocket knife if you do not have a stone.
How to Sharpen a Pocket Knife with a Stone
Here is how to sharpen a pocket knife in several different ways.
Purchase a Sharpening Stone
There are three main types of sharpening knives on the market to choose from, including a whetstone, ceramic stone, and diamond stone.
A whetstone is the most common and works for a wide range of knife blades. They are easy to use. You can choose from different grit levels ranging from fine to coarse. Ceramic stones are harder and last longer than whetstones. They are designed for sharpening tougher blades such as ceramic or titanium blades.
Diamond stones are the hardest and sharpen your knife blade the fastest. However, they are the most expensive. They are available in different types of coarseness, including fine, superfine, coarse, and super-coarse. Most diamond stones are metallic, with small diamonds attached.
Prep Your Sharpening Stone
If using a whetstone or a ceramic stone, soak it in water for the recommended time or apply mineral oil. For example, a whetstone should be soaked for 10 minutes before sharpening the blade, while ceramic stones should be soaked for 3-5 minutes.
Lubricating the stone prevents the pores from clogging up with fillings. It also reduces friction when sharpening and reduces the amount of heat produced when stroking the knife against the stone.
Prep Your Pocket Knife
Clean the knife blade with soap and water, and then wipe it dry to get rid of dirt, grease, or any other residue. Then, inspect the cutting edge for any nicks and bends that may need honing before sharpening.
Identify the Bevel Angle of Your Pocket Knife
Different knives are forged at different bevel angles depending on their intended use and blade material. You should sharpen your knife at its bevel angle on each side.
Most pocket knives have a bevel angle of 15-20 degrees, while a few have a bevel angle of 25-30 degrees. If you are not sure about the exact bevel angle of your knife, confirm with your manufacturer or consult with your local knife store.
While sharpening it at a steeper angle will give the blade an ultra-sharp knife edge, it also shaves material off the knife blade, making it thinner and weaker. On the other hand, sharpening at a wider angle widens the cutting edge without making it sharp.
Position Your Pocket Knife Against the Sharpening Stone
Hold the knife with your dominant hand, with the cutting edge facing away from you. Position it at the bevel angle against the stone.
Sharpen the Pocket Knife
Make strokes with the blade against the sharpening stone while maintaining the bevel angle. For example, make 5-10 gliding strokes along the stone, then flip the knife around and sharpen for a similar number of strokes at the given bevel angle.
Test the Knife's Sharpness
Hold a piece of paper up with your non-dominant hand and the sharpened knife with your dominant hand. Cut through the paper. If the blade is sharp, it will cut smoothly and cleanly. If not, it will get stuck, or the cuts will be rugged. If the knife is not sharp enough, repeat the sharpening process and hone.
Alternative Methods of Sharpening a Pocket Knife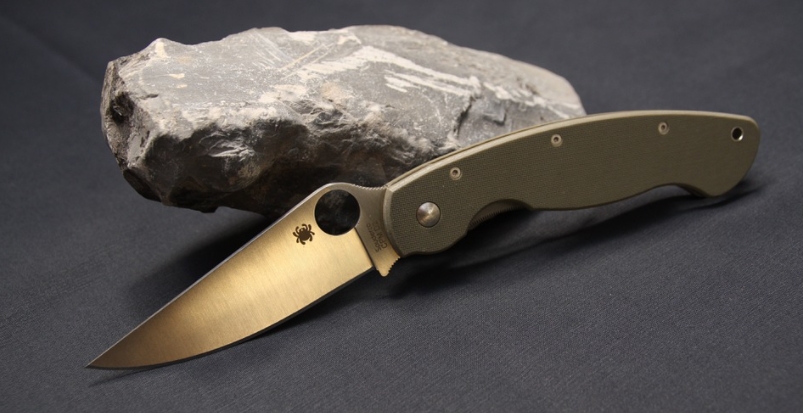 Don't have a sharpening stone on hand but still need to sharpen your pocket knife before a task? Check out these alternative methods you can use in place of a sharpening tool.
River Stone
A river stone makes a great tool for sharpening a pocket knife because the water has worn it down into fine grain and a uniform blade edge. Wet the stone and hold the knife at its bevel angle.
Make 5-10 strokes with the knife against the stone and then flip it and repeat the sharpening process on the opposite side. Make sure to keep the stone wet during the sharpening process by applying water regularly between the strokes.
Sand
Sand has a fine to medium grit that makes it suitable for knife sharpening. If you cannot find sand, collect small stones and crush them into mush using a bigger stone. Snap a fresh branch and shave off any leaves.
It is important that the branch is fresh as it has a bit of moisture that holds the sand particles and provides lubrication when sharpening. Curve one side of the branch to make a flat surface.
Rub sand on the flat surface to make a make-shift whetstone. Do not apply too much sand and aim to make the sand surface as flat as possible. Stroke the knife back and forth until the knife is well sharpened. You may need to apply sand on the branch several times.
You can also use sandpaper as an alternative sharpening tool. Find a flat surface and run the sandpaper up and down the knife's edge.
Use Another Knife
Although most modern knife experts discourage using one knife to sharpen another, it is effective if done correctly. You have probably seen your parents or grandparents do it with different knives.
Hold both knives up and stroke the blades against each other with an equal amount of pressure. Ensure to stroke the knives along the entire length of the blades while maintaining the right bevel angle. Focus on one side first, then switch to the other side for the same number of strokes and sharpening angles.
Conclusion
Having a pocket knife is not enough. It needs to be sharp to be able to use it efficiently. The most recommendable method of sharpening your pocket knife is using a sharpening stone.
However, if you don't have one, you can use other items within reach to sharpen it. Aside from sharpening your knife, it is important to hone it regularly for proper knife edge retention.