Meat Grinder Uses
Greg
One of the best investments a meat lover can make is to have a meat grinder as a kitchen tool.
With a meat grinder, not only will it help you grind and obtain different textures of ground meat, but it also has other uses that few people know about.
There are different reasons besides grinding meat why you should get a meat grinder. In this article, we will show you the different uses your meat grinder has. By the end of reading this article, you will realize the many benefits of getting a meat grinder and how useful this tool can be, and how it can improve your cooking techniques.
What is a Meat Grinder?
A meat grinder is a kitchen utensil used to finely minced meat. It is also used to mix different foods such as ground meat of beef, pork, or chicken, vegetables, or different types of cooked foods. Learn more about our top recommendations for meat grinders.
Other Uses of a Meat Grinder
Besides the obvious, a meat grinder can be used for:
Grinding vegetables
Juicing
Making cookie dough
Making hamburgers
Making meat sausage
Components of a Meat Grinder
A meat grinder is composed of several parts:
Motor
Stainless steel blades
Meat pusher
Auger or screw
Feed tube
How Does a Meat Grinder Work?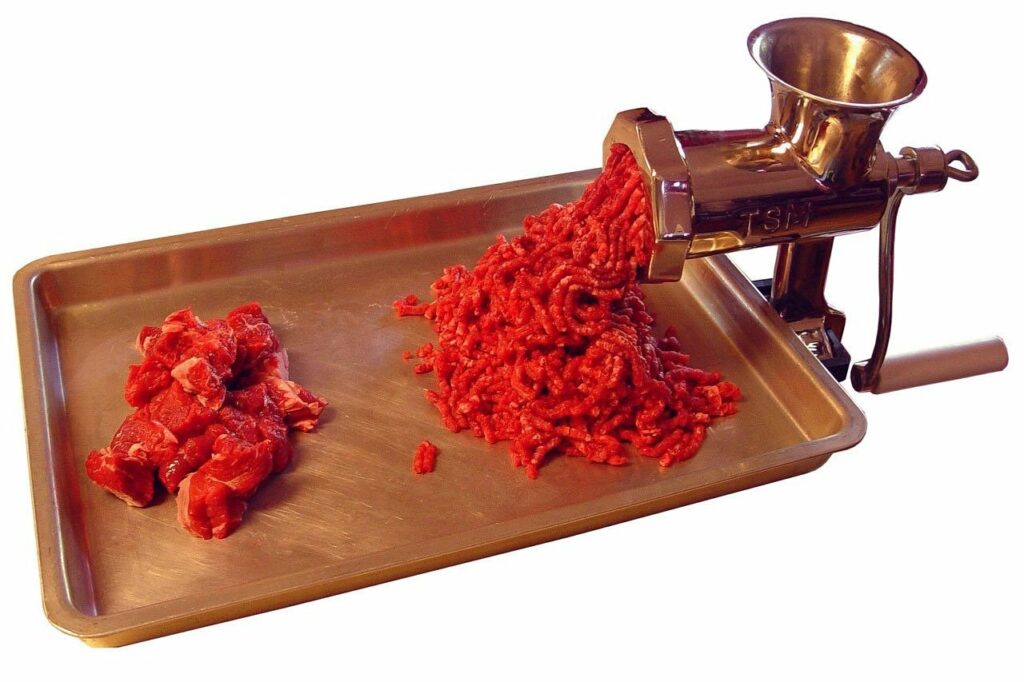 The food or meat to be minced is placed into a funnel at the top of the meat grinder. From there, the food passes through a horizontal screw conveyor that crushes and grinds the meat or whatever food is fed into it.
The food then passes through a fixed grinder plate where it exits the meat grinder machine. The size of the grind will depend on the size of the holes in the plate.
Meat grinders can be electric or manual.
Electric Meat Grinders
Most of us are familiar with manual meat grinders that require your muscle and a hand crank to process food. The function of an electric meat grinder is basically the same, but less effort is required to grind the meat as it is powered by a motor.
Unlike a conventional meat grinder, an electric meat grinder is more expensive but in return, you will be able to grind a larger amount of food in less time. In addition, an electric meat grinder can also be used to grind small chicken bones. This task can be done in a manual meat grinder, but it takes a lot of effort and time.
Meat Grinder Uses
1. Meat Grinding
The most obvious and basic use of a meat grinder is grinding meats of any variety. It can grind fresh meat to prepare all kinds of dishes. There are different types of blades to grind meat of varying thicknesses and tenderness.
Having a meat grinder will help you cook with fresh meat and create the favorite meat dishes you usually buy in the supermarket already prepared, minus the preservatives they may contain.
2. Making Sausages
If you are a meat lover, perhaps one of your favorite foods is sausage or hot dogs. Using your meat grinder can allow you to make your personalized sausages to suit your taste. You can mix and grind different types of ground meat and thicknesses and even add some other ingredients like vegetables.
You will be a sensation among friends as you will be able to offer them sausage for all kinds of tastes. Not all meat grinders include a sausage stuffer attachment so you will have to purchase one as an add-on to make this delicious dish at home.
3. Grinding Vegetables
If you're a vegetarian, you don't necessarily have to do without a meat grinder. A meat grinder can also be useful for preparing vegetarian meals. You may not have heard much about this way of using a meat grinder, but it is actually very useful for grinding different types of vegetables.
It is often used by professional chefs to make chutneys and condiments. By adding spices while grinding vegetables, you will get a better flavor and you can even make delicious veggie burgers.
4. Making Cookie Dough
One use that few would believe is possible is to use a meat grinder to mix ingredients for delicious cookie dough. I don't know anyone who doesn't like the taste of homemade cookies. We usually buy cookies at the supermarket or bakeries, but they may contain unhealthy ingredients or contain excess fat and sugar.
Having a meat grinder means you can make a dough with healthy ingredients and have control over the amounts of sugar and butter you add. All you have to do is combine your ingredients in the meat grinder.
The function of the meat grinder is similar to that of a blender. Surprise your friends and family by making cookies made from a dough mixed in the meat grinder. They won't believe it.
5. Juicing
Juicers and juice extractors are usually very expensive appliances and take up a lot of space in your kitchen. If you have a meat grinder, you'll find that it's like having several kitchen appliances in one. The blades that meat grinders have also work well for juicing.
The only disadvantage is that the juice will contain a certain texture. If you do not like a juice with pulp and vegetable and fruit remains, you should pass it through a strainer before drinking it.
On the other hand, if the pulp of the juice does not bother you, you will be contributing a good amount of fiber to your diet. This unorthodox use of a meat mincer will save you money and space.
6. Grinding Raw Bones
Many people choose to feed their pets nutritious, natural foods. Making a homemade meal for our pets can bring great benefits to their health. The kibble and pet food sold by veterinarians or supermarkets usually contain chemical ingredients that can harm our pets.
The best option is to provide a more natural food. With a meat grinder, it is possible to extract the best nutrients from the food and prepare natural food for our pets. You can grind raw or cooked meat bones.
Grinding raw bones is a job for an electric meat grinder as it will make the task easier and more effective. Keep in mind that an electric grinder is more expensive than a manual grinder so you will have to evaluate if you will give continuous use to the meat grinder to make that investment.
Conclusion
As you may have learned from reading this article, a meat grinder is not only used to grind meat. The many uses of a meat grinder are a good reason to consider investing in one. Without a doubt, a meat grinder is a cost-effective kitchen gadget that will help you save a lot of money that is usually spent on processed foods.
If you decide to purchase or have already purchased a meat grinder, you will be able to discover other creative ways to use it and create delicious dishes in the comfort of your kitchen.