How to Clean a Smoker
Greg
You've got a big family gathering planned to enjoy a great outdoor barbecue. An expert griller knows that cooking delicious burgers, hot dogs, steaks, chicken, and vegetables for the whole family is unparalleled.
People who own a smoker understand all the benefits of having one at home: more flavor for less work. Learn more about some of our top recommendations for smoker grill combos! Once the party is over, however, you'll also need to perform a good cleaning on your cooking equipment to keep your smoker working perfectly.
A smoker (or any cooking appliance) tends to accumulate grease and food residue over time. If it is not given a proper cleaning, the smoker could lose the characteristics that give that unique smoke smell and flavor to your meals.
In this article, we show you how to clean a smoker so you can continue to bring your family together and offer them the best flavor in their food, time and time again.
A Step-by-Step Guide to Cleaning Your Smoker
The best thing to do is to clean the well of your smoker with a non-abrasive cleaning liquid. This will help keep you from damaging the surfaces of your smoker. Most people try to clean their unit with hot soapy water (dish soap is fine), but this is not always the best option. The grease that accumulates on a grill is quite tough and that's why you need a special cleaning technique.
Materials You Need
Non-abrasive degreaser / grill cleaner
Spatula, paint scraper, or putty knife
Sponge or scouring pad
Grill brush
Plastic sheeting
Rubber gloves
Spray bottle
Instructions
Step 1
Make sure your smoker is completely cool before you start cleaning to avoid any accidents. Before you begin, put on rubber gloves to protect your hands. Also, place the plastic sheeting on the ground to protect your workspace.
Step 2
Brush each grill grate thoroughly with a nylon bristle brush or a specialized grill brush. If the cooking grates are porcelain-coated, use a brass bristle brush. Soak the grates with a little water using your spray bottle and continue scraping with the spatula.
Step 3
Use the spatula to scrape and remove grease and food debris from the cooking chamber. Be sure to get into the corners for proper cleaning. Vacuum up any ash residue that falls as you scrape.
Step 4
Remove the grease trap and clean the drippings. Mix some degreasing liquid with a little warm water and wash the combustion and cooking chamber and the entire exterior surface of the smoker. If there are stubborn stains, use a scouring pad with a little more degreaser.
Step 5
Rinse thoroughly and remove excess water with a dry cloth or paper towels. Leave the lids up and the grates in the open air to dry thoroughly. If your smoker shows signs of rust, clean the areas with paper towel or steel wool. Apply a good quality primer and high-temperature paint.
Regular Smoker Maintenance
You should indeed clean your smoker periodically and do it thoroughly. Here are a few tips you can follow to keep your smoker in top condition, so it isn't a challenge to clean:
Clean the grates with a grill brush after every use.
When the smoker is warm and you can touch it without burning yourself, scrape off any grease buildup from the bottom of the smoke chamber.
Empty the drip tray or grease pan. Clean the gasket around the lid with a damp cloth.
Once the grill is completely cool, clean the burnt ashes and pour them into a metal ashcan.
Remove any accumulated scale so that it doesn't contaminate your food in the future.
Season the smoker occasionally to prevent oxidation.
Why Should You Season a Smoker?
Smokers can be used immediately without any special preparation. It is a good idea, however, to turn them on without food inside. Seasoning your smoker will help you learn how to use it and will also help you clean and burn off any smoke residue left on the metal during the manufacturing process.
Larger smokers need to be seasoned the most. You will usually find instructions on how to do this in the owner's manual, but the same technique is used to season any type of smoker.
How to Season a Smoker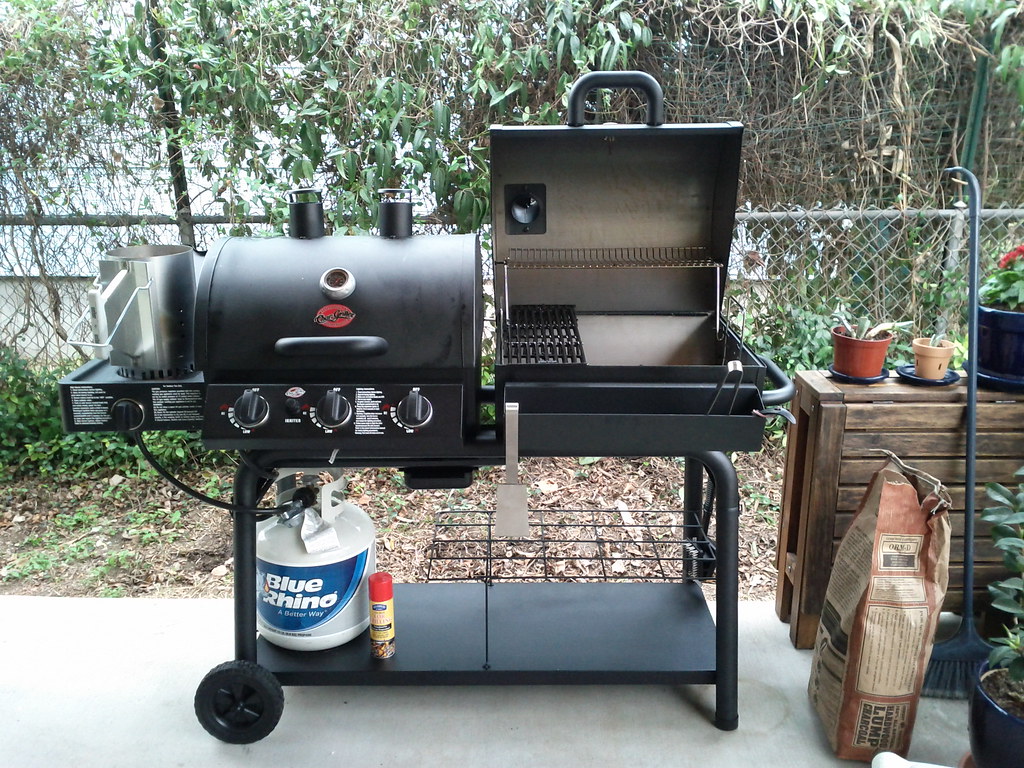 Seasoning a smoker is similar to seasoning a cast-iron skillet.
The first thing you should do is coat the entire surface with oil. Use whatever cooking oil you have; it doesn't have to be a specific type. One thing we recommend is that the oil be resistant to a high combustion point. Some manufacturers suggest using canola oil, vegetable oil, or grapeseed oil for this process.
Once the surface is fully oiled, you should heat the oil to a temperature that allows it to seep into all the crevices of the smoker's metal surface. This will help create a water-repellent coating to protect it from oxidation.
Use a temperature between 250 and 275˚ F. Be careful not to exceed this temperature range as you may damage the paint on the smoker. Be sure to read your owner's manual to find out what temperature is recommended for seasoning your smoker.
The smoker chimney should be wide open to allow a proper draft. If you add wood to the firebox, it is best to use the same type of wood that you will use for cooking.
Leave the smoker at a high temperature for two to three hours. If you want to cook immediately after seasoning your smoker, let the temperature drop to approximately 225˚ F before putting the meat in to cook.
Importance of Cleaning a Smoker
It is extremely important to clean a smoker to ensure its perfect operation. Once the smoker has been seasoned, cleaning it is essential to maintain the protective coating you have created during curing. This rule applies whether you use an electric smoker, charcoal smoker, or a pellet smoker.
To keep it protected, it is important to remove ash and residual smoked food. Be careful not to scrub or rub the smoker so hard that you remove the protective coating. Remember to clean and re-season it periodically so that it always has an oily surface. This prevents rusting of your smoker.
It is very important to keep your smoker free of extra grease but at the same time, you must keep the protective layer oily for proper maintenance. It may seem contradictory but over time you will find the perfect balance.
The long life of your smoker will depend on how well or poorly you maintain it. Many users make the mistake of not cleaning the ash and grease deposit after each use which causes the smoker to begin to deteriorate in a very short time.
Enjoy!
Following the above advice should ensure your smoker lasts for years; especially if you have purchased a high-quality smoker. The only reason a smoker starts to fail or deteriorate quickly is poor maintenance by the user. It is extremely important to learn how to use it for cooking and learn how to clean and maintain it properly.
The key to a great barbecue is to know the equipment you are cooking on inside and out. Remember that you have invested money and effort to make a great meal. Take care of your smoker and you will be able to use it for many years to come.